Arbitral Advocacy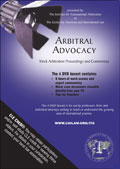 Ordering Information
Save 30% this month on all programs -- contact Krishonne Johnson at kjohnson@cailaw.org.
Price of DVD set: $295 Non-members / $245 ITA Members / $195 Students or Law Schools
Mock Arbitration Proceedings and Commentary
The Institute for Transnational Arbitration presents this 4 DVD box set, designed to demonstrate and explain the craft of advocacy in international arbitration.
The 4 DVD box set contains nearly 6 hours of mock scenes and expert commentary. Mock case documents and Tips for Teachers can be viewed directly from your PC. This box set is for use by professors, firms and individual attorneys seeking to teach or understand this growing area of international practice.
Act 1: Case Strategy and Written Advocacy
Act 2: Pre-Hearing Advocacy
Act 3: Advocacy with Witness Testimony
Act 4: Oral Advocacy
Learn more about the box set