Investment Treaty Arbitration in the 21st Century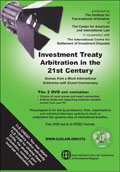 Ordering Information
Save 30% this month on all programs -- contact Krishonne Johnson at kjohnson@cailaw.org.
Price of DVD set: $295 Non-members / $245 ITA Members / $195 Students or Law Schools
Scenes from a Mock International Arbitration with Expert Commentary
This 2 DVD set is designed to demonstrate and explain Investor-State disputes under investment treaties in international arbitration. Combining eight mock scenes with panel commentaries after each scene, the program examines key procedures and common issues from the vantage points of the parties, the tribunal, the institution, and the public at large. The mock arbitration is conducted under the rules and procedures of the International Centre for Settlement of Investment Disputes (ICSID).
The program includes 6 hours of mock scenes and commentaries written and performed by an international cast of experts to illuminate the ordinarily private world of international arbitration.
Each DVD contains a Study Guide by Prof. David D. Caron (Boalt Hall School of Law, University of California at Berkeley).
Act 1: Birth of an ICSID Case
Act 2: Organization of the Defense and Proceedings
Act 3: The Hearing on Jurisdiction
Act 4: The Merits, the Award and Annulment