World Arbitration and Mediation Review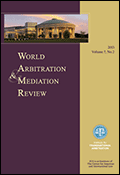 Articles, commentaries and case notes of high quality addressing current issues in international arbitration and mediation. It is published four times each year under editors-in-chief Doak Bishop, Professor Andrea Bjorklund and Dietmar Prager, the co-managing editors Rafael Boza and Epaminontas (Nontas) Triantafilou, and a distinguished editorial board. All members of ITA receive a free subscription to the journal.
Connect with WAMR on LinkedIn
Connect with WAMR on Facebook
Table of Contents
Volume 9, No. 1

Sovereigns Rule Again: Recent Challenges to Enforcement and Execution of Arbitral Awards Against Sovereigns - Jaroslav Kudrna
What is the Fair and Equitable Treatment Standard? Content and Sources - Marta de Sousa and Nunes Vicente
TIPP and CETA vs. NAFTA: Reflections on Treaty Negotiations under Public Scrutiny - Michael P. Daly
Switzerland: Conciliation and Mediation under the New Provisions of the Code of Civil Procedure - Andrea Rusca

Volume 9, No. 2

2014 Year in Review: The Top Ten Developments in International Energy Arbitration (2nd ITA-IEL Joint Conference) - Laurence Shore
The Revised IBA Guidelines on Conflicts of Interest in International Arbitration (2nd ITA-IEL Joint Conference on International Energy Arbitration) - David Arias
Expecting the Unexpected: How International Energy and Oilfield Services Companies Manage Front Page Geopolitical Events (2nd ITA-IEL Joint Conference) - James L. Loftis, Michol L. Ecklund, Jay G. Martin and Steven S. Runner
A Conversation with Professor J. Martin Hunter (2nd Annual ITA-IEL Joint Conference Luncheon) - J. Martin Hunter and Jarrod Wong
Blowing Hot and Cold: State Commitments to Arbitrate Investment Disputes - Timothy G. Nelson
Manuscript Submissions
Manuscripts for consideration should be submitted to the co-managing editors at rafaelboza@gmail.com and etriantafilou@gmail.com.
Download and print the WAMR's style sheet (pdf)


Subscription Information
Become an ITA member to receive your FREE subscription.
To subscribe to WAMR without becoming an ITA member:
Click here to order a print subscription,
Click here to order an online or online + print subscription, or