World Arbitration and Mediation Review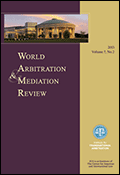 Articles, commentaries and case notes of high quality addressing current issues in international arbitration and mediation. It is published four times each year under editors-in-chief Doak Bishop, Professor Andrea Bjorklund and Dietmar Prager, the co-managing editors Rafael Boza and Epaminontas (Nontas) Triantafilou, and a distinguished editorial board. All members of ITA receive a free subscription to the journal.
Connect with WAMR on LinkedIn
Connect with WAMR on Facebook
Table of Contents
Volume 10, No. 1

Statements as Evidence of State Practice for Custom Creation in International Investment Law - Patrick Dumberry
Violations of Fair and Equitable Treatment in Investor-State Arbitration: The Use of Proportionality to Review Contractually Agreed Sanctions - Daniela Páez-Salgado
How "International" is International Arbitration? - Caline Mouawad
Judicial Attitudes Towards Anti-Arbitration Injunctions in Pakistan, England, and France - Ikram Ullah
Development of Arbitration in Turkey - Okan Demirkan, Gürhan Aydin and Burak Eryiğit
Manuscript Submissions
Manuscripts for consideration should be submitted to the managing editor at rafaelboza@gmail.com.
Download and print the WAMR's style sheet (pdf)

Subscription Information
Become an ITA member to receive your FREE subscription.
To subscribe to WAMR without becoming an ITA member:
Click here to order a print subscription,
Click here to order an online or online + print subscription, or