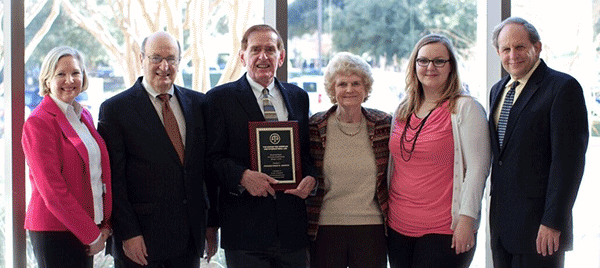 Pictured left to right: Wendy Castellana, Al Golden, Professor Johanson, Gerrie Johanson, Natalia Kolakowska, and Mark Smith. Photography by Vickie Adams.
This year's annual Short Course on Estate Planning marked the 50th anniversary of Professor Stanley Johanson's participation with a CAIL program.
For most Texas lawyers, the professor needs no introduction. He is synonymous with wills & estates.
But for those outside of Texas, a little background on the good professor—in addition to teaching at CAIL's annual program for the last 50 years, Professor Johanson: joined The University of Texas School of Law faculty in 1963 and holds the James A. Elkins Centennial Chair in Law; his book Johanson's Texas Estates Code Annotated has been published annually since 1996; he lectures for BAR/BRI Bar Review Inc., helping candidates prepare for the bar exam in Illinois, Massachusetts, Michigan, Nevada and Texas; and he is a co-author of Wills, Trusts and Estates, a casebook used at over 120 American law schools.
We also celebrated 50 years with Gerrie Johanson—it hasn't only been the Professor & CAIL all these years! In the early days, the short program was 5 days long and the whole Johanson family came north. Thank you, Professor & Mrs. Johanson – 50 years & counting!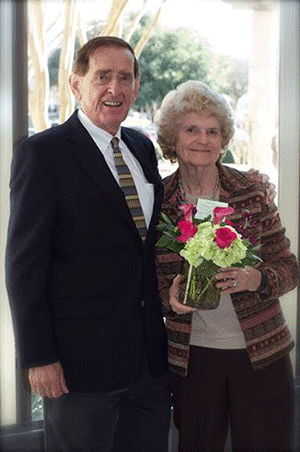 Stanley & Gerrie Johanson
[The 52nd Annual Short Course on Estate Planning, held February 3-5, 2016 in Plano, was co-chaired by Santo Bisignano, Jr. (Bisignano Harrison Neuhoff LLP) and Michael V. Bourland (Bourland, Wall & Wenzel, P.C.), and featured Professor Stanley M. Johanson (The University of Texas School of Law), Darin N. Digby (Schoenbaum, Curphy & Scanlan, P.C.), Stephen R. Akers (Bessemer Trust Company), Alvin J. Golden (Ikard Golden Jones, P.C.) and Melissa J. Willms (Davis & Willms, PLLC).]