Oil & Gas E-Report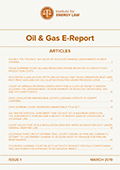 Inside the Latest Issue:
Court Enjoins BOEM and BSEE from Approving Use of Hydraulic Fracturing or Acidizing in Pacific Until Endangered Species Act and CZMA Violations are Corrected
A Kick to the Teeth: U.S. Sanctions on Iran Are Back and the Energy Industry is in the Crosshairs
Louisiana First Circuit Allows Landowner Seeking Remediation of Contamination to Proceed Under Citizen Suit Provision
Court Provides Primer on Louisiana Oil Well Lien Act in Resolving Dispute
Court Halts Work on Keystone Pipeline Pending Further Review Under NEPA and Pending More Detailed Explanation of Decision to Grant Permit
Ohio Supreme Court Finds Independent Landman Needed Real Estate License to Engage in Leasing Activities
Oklahoma Corporation Commission has Exclusive Authority to Regulate Temporary Pipelines Carrying Produced Water
Court Rejects Texas Landowner's "creative" Use of Accommodation Doctrine
The Accidental Contract: Adventures in English Law
Oil and Gas Development in West Virginia Involving Unknown or Unleased Parties
Oil & Gas: Scope of Force Majeure Clauses in Yemen PSAs
The Oil & Gas E-Report is a quarterly newsletter that began in 2018. It contains articles of current interest to oil and gas practitioners and is assembled by a geographically diverse group of editors from private practice, in-house, and academia. This e-publication is the successor to IEL's print publication, the Oil and Gas Reporter, which was published from 1952-2017.
Editorial Board
IEL E-Communications Committee Chair
Steven P. Otillar, White & Case LLP
Editor-in-Chief
Keith B. Hall, LSU Paul M. Hebert Law Center
Editors
Kevin C. Abbott, Reed Smith LLP
Michael B. Bennett, Baker Botts, L.L.P.
Bradford Berge, Holland & Hart LLP
Tim Brown, Anadarko
Mark D. Christiansen, McAfee & Taft
Earl DeBrine, Jr., Modrall Sperling
Sharon O. Flanery, Steptoe & Johnson PLLC
Jana Grauberger, Liskow & Lewis
Aimee W. Hebert, Kelly Hart & Pitre
John T. Kalmbach, Cook, Yancey, King & Galloway
Kenneth Klemm, Baker, Donelson, Bearman, Caldwell & Berkowitz, PC
Michael P. Lennon, Jr., Mayer Brown LLP
Daniel M. McClure, Norton Rose Fulbright US LLP
John W. Morrison, Crowley Fleck PLLP
Jennifer Walter Mosley, Chevron
Barclay Nicholson, Norton Rose Fulbright US LLP
Scott A. O'Connor, Gordon Arata Montgomery Barnett
Patrick S. Ottinger, Ottinger Hebert, L.L.C.
Joseph K. Reinhart, Babst Calland
Bruce F. Rudoy, Babst Calland
Gregory D. Russell, Vorys, Sater, Seymour and Pease LLP
Frédéric (Freddy) Sourgens, Washburn University School of Law
Michael K. Vennum, Vorys, Sater, Seymour and Pease LLP
Please forward any comments, submissions, or suggestions to any of the IEL's Associate Director,
Vickie Adams at vadams@cailaw.org.