Oil & Gas E-Report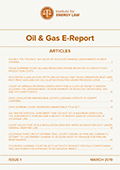 Inside the Latest Issue:
Pennsylvania Supreme Court Reverses Approval of Gas Well Pad on Narrow Grounds, But Suggests that Municipalities May Permit Unconventional Natural Gas Drilling in any and all Zoning Districts
Yanny or Laurel? Black & Blue or White & Gold Dress? Fixed or Floating Royalty? The Texas Supreme Court Decides Another Fixed or Floating Royalty Case
U.S. Third Circuit Affirms Dismissal of Pipeline Challenge for Lack of Subject Matter Jurisdiction Because Plaintiff Failed to Seek Rehearing Before FERC and then Filed in District Court, Rather than Appellate Court
U.S. Fourth Circuit Affirms Dismissal of Challenge to Pipeline that was Filed in the District Court, Holding that Appellate Courts are Granted Exclusive Jurisdiction to Consider Challenges to FERC Orders
Pennsylvania Supreme Court Rules on Injunctive Relief for the Marcellus Shale Coalition
Liability of Mortgagee-Bank for Faults of its Mortgagor-Borrower
Court Holds that Flat Rate Royalty Modifies Habendum Clause and that an Implied Covenant of Further Exploration Does Not Exist Under West Virginia Law
D.C. Circuit Holds that Neither FERC's Collection of Fees from Companies that it Regulates nor FERC's use of Tolling Orders in Pipeline Disputes Violates Environmental NGO's Due Process Rights
West Virginia Passes Legislation Impacting Oil & Gas Leasing
Federal Fifth Circuit Holds Debtor-in-Possession Lessee Is Bona Fide Purchaser
Federal District Court Dismisses City of New York's Climate Change Lawsuits Against Major Oil and Gas Companies
U.S. District Court Dismisses Oakland and San Francisco's Climate Change Lawsuits Against Major Oil and Gas Companies
Ohio Federal Court Finds Statutory Unitization Is Not A Taking
Offset-Well Clauses: Attempting to Apply Classic Oil and Gas Concepts in the Horizontal Well Context
Louisiana Oil Well Lien Act Amended with Regard to Wastes "Produced in Association with Hydrocarbons, After it is Placed in a Truck, Rail-Car, Pipeline, or Other Means of Transportation for Disposal Away from the Well Site."
The Oil & Gas E-Report is a quarterly newsletter that began in 2018. It contains articles of current interest to oil and gas practitioners and is assembled by a geographically diverse group of editors from private practice, in-house, and academia. This e-publication is the successor to IEL's print publication, the Oil and Gas Reporter, which was published from 1952-2017.
Editorial Board
IEL E-Communications Committee Chair
Steven P. Otillar, White & Case LLP
Editor-in-Chief
Keith B. Hall, LSU Paul M. Hebert Law Center
Editors
Kevin C. Abbott, Reed Smith LLP
Michael B. Bennett, Baker Botts, L.L.P.
Bradford Berge, Holland & Hart LLP
Tim Brown, Anadarko
Mark D. Christiansen, McAfee & Taft
Earl DeBrine, Jr., Modrall Sperling
Sharon O. Flanery, Steptoe & Johnson PLLC
Jana Grauberger, Liskow & Lewis
Aimee W. Hebert, Kelly Hart & Pitre
John T. Kalmbach, Cook, Yancey, King & Galloway
Kenneth Klemm, Baker, Donelson, Bearman, Caldwell & Berkowitz, PC
Michael P. Lennon, Jr., Mayer Brown LLP
Daniel M. McClure, Norton Rose Fulbright US LLP
John W. Morrison, Crowley Fleck PLLP
Jennifer Walter Mosley, Chevron
Barclay Nicholson, Norton Rose Fulbright US LLP
Scott A. O'Connor, Gordon Arata Montgomery Barnett
Patrick S. Ottinger, Ottinger Hebert, L.L.C.
Joseph K. Reinhart, Babst Calland
Bruce F. Rudoy, Babst Calland
Gregory D. Russell, Vorys, Sater, Seymour and Pease LLP
Frédéric (Freddy) Sourgens, Washburn University School of Law
Michael K. Vennum, Vorys, Sater, Seymour and Pease LLP
Please forward any comments, submissions, or suggestions to any of the IEL's Associate Director,
Vickie Adams at vadams@cailaw.org.