Oil & Gas E-Report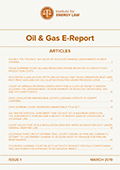 Inside the Latest Issue:
Servitude Owner's Restoration Duties Terminated When Servitude Terminated
Where in the world is the owner of a mineral lease considered to be the owner of an "unleased" interest?
University of Cincinnati Study Finds No Adverse Impact on Groundwater from Oil and Gas Activity
EPA Grants Primacy to North Dakota for CCS Injection Wells
Ohio Law Does not Support an Implied Covenant of Further Exploration
Alleged Trespass by Hydraulic Fracturing Fluid and Proppants
Texas Supreme Court Interprets Retained-Acreage Clauses
Court Finds That County Ordinance in West Virginia Prohibiting Storage and Permanent Disposal of Wastewater Was Preempted by State Law
West Virginia Amends Statute Regulating Flat Rate Royalties
The Oil & Gas E-Report is a quarterly newsletter that began in 2018. It contains articles of current interest to oil and gas practitioners and is assembled by a geographically diverse group of editors from private practice, in-house, and academia. This e-publication is the successor to IEL's print publication, the Oil and Gas Reporter, which was published from 1952-2017.
Editorial Board
IEL E-Communications Committee Chair
Editor-in-Chief
Keith Hall, LSU Paul M. Hebert Law Center
Editors
Kevin C. Abbott, Reed Smith LLP
Michael B. Bennett, Baker Botts, L.L.P.
Bradford Berge, Holland & Hart LLP
Mark Christiansen, McAfee & Taft
Earl DeBrine, Modrall Sperling
Sharon Flanery, Steptoe & Johnson PLLC
Jana Grauberger, Liskow & Lewis
Aimee Hebert, Kelly Hart & Pitre
John Kalmbach, Cook, Yancey, King & Galloway
Kenneth Klemm, Baker, Donelson, Bearman, Caldwell & Berkowitz, PC
Michael P. Lennon, Jr., Mayer Brown LLP
Daniel M. McClure, Norton Rose Fulbright US LLP
John Morrison, Crowley Fleck PLLP
Jennifer Walter Mosley, Chevron
Barclay Nicholson, Norton Rose Fulbright US LLP
Scott O'Connor, Gordon Arata Montgomery Barnett
Patrick S. Ottinger, Ottinger Hebert, L.L.C.
Bruce F. Rudoy, Babst Calland
Gregory D. Russell, Vorys, Sater, Seymour and Pease LLP
Frédéric (Freddy) Sourgens, Washburn University School of Law
Michael K. Vennum, Vorys, Sater, Seymour and Pease LLP
Please forward any comments, submissions, or suggestions to any of the IEL's Associate Director,
Vickie Adams at vadams@cailaw.org.