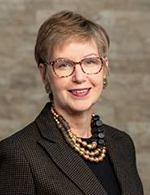 Lynn Laverty Elsenhans, Former Chairman and CEO of Sunoco and Sunoco Logistics, will be honored by the Institute for Energy Law with the 2020 John Rogers Award. This award will be presented to Ms. Elsenhans at the John Rogers Award Dinner on the night of February 20, during the 71st Annual Oil and Gas Law Conference.
The Institute of Energy Law's oldest and most distinguished Award, The John Rogers Award was established in 1969 in honor of John Rogers of Tulsa, Oklahoma, and is presented annually during the Annual Oil & Gas Conference to a person in the petroleum industry in recognition of their extraordinary professional and civic achievement. Rogers, who died in 1977, was a longtime friend and Trustee of The Center for American and International Law of which the Institute for Energy Law is an institute.
For over 50 years, The John Rogers Award has celebrated the leaders, change-makers and innovators in the oil and gas industry who have used their success to inspire others and better their communities. The 2020 Awardee, Lynn Laverty Elsenhans impeccably exemplifies these qualities.
In 2008, Lynn Elsenhans become the first woman to lead a major U.S. oil company as Chairman and CEO of Sunoco and Sunoco Logistics. An industry veteran, Ms. Elsenhans began her career with Royal Dutch Shell in 1980 where she went on to hold a number of senior leadership roles including President of Shell Oil Company and President and CEO Shell Oil Products of both the Asia Pacific Middle East and US Regions. Her auspicious trajectory led her to be named 11th on Forbes list of 100 Most Powerful Women in 2009.
Ms. Elsenhans currently serves on the boards of Saudi Aramco, GlaxoSmithKline plc, Baker Hughes, a GE Company, and the Texas Medical Center. Ms. Elsenhans is also on the advisory board for the Baker Institute at Rice University.