The Center for American and International Law's ("CAIL") Institute for Energy Law ("IEL") honored Linda Z. Cook, chief executive officer of Harbour Energy plc, as the 2022 recipient of the John Rogers Award at an awards reception held during IEL's 73rd Annual Energy Law Conference in Houston.
"IEL is proud to recognize Linda Z. Cook as the newest recipient of the John Rogers Award," stated Jay Ray, director of CAIL's Institute for Energy Law. "Her passion for her work and her commitment to elevating the standards of the industry make her deserving of this prestigious award. We are proud to have her join us and thank her for her contributions to the betterment of our industry."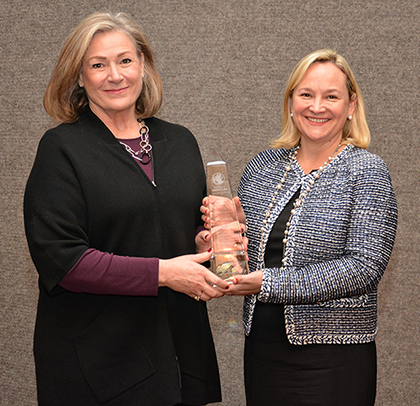 Left to Right: Linda Z. Cook, CEO of Harbour Energy and Laura Robertson, Deputy General Counsel, Litigation, IP, and Legal Operations at Conoco Phillips
The John Rogers Award, one of CAIL's most enduring awards, is presented annually by IEL to an individual who has demonstrated extraordinary professional and civic achievements throughout their career in the energy industry. The award, first established in 1969 by the Southwestern Legal Foundation (now CAIL), was created in honor of John Rogers, an attorney and CAIL trustee from Tulsa, Oklahoma, whose exemplary life, great interest in legal education, and valuable services contributed to the Foundation's growth and longevity.
About Linda Z. Cook - Cook was named Chief Executive Officer (CEO) of Harbour Energy plc on April 1, 2021. Prior to this, Linda was Chairman of the Board of Chrysaor Holdings Ltd, and a member of the Investment and Executive Committees of EIG Global Energy Partners (EIG), positions she held since 2014. She retired from Royal Dutch Shell plc in 2010, at which time she was a member of the Board of Directors and the Executive Committee. During her 29 years with Shell, she held positions including CEO of Shell Gas and Power (London); CEO of Shell Canada Limited (Calgary); Executive Vice President Strategy and Finance for Global Exploration and Production (The Hague); and various US exploration and production management, operational and engineering roles. She remains an advisor to EIG and is currently a Trustee for the University of Kansas Endowment Association, a member of the Society of Petroleum Engineers, and a Non-Executive Director on the Board of BNY Melon. She received a B.S. degree in Petroleum Engineering from the University of Kansas in 1980.

----------
About the Institute for Energy Law - The Institute for Energy Law (IEL) was founded in Dallas in 1959 as a division of The Center for American and International Law, an international nonprofit educational institution for lawyers, judges, and law enforcement professionals. IEL provides lawyers and other professionals in the energy industry exceptional academic and professional opportunities, including annual conferences, courses, seminars, scholarly publications, and membership activities. As one of the energy industry's premier membership organizations, IEL counts with many leading global energy companies and attorneys amongst its international members. News and information about IEL are available at https://www.cailaw.org/IEL or follow us on Twitter @IEL_CAIL.