The ILEA's Police and Family Conference was recently taken on the road at the request of the Grand Rapids Police Department. This two day conference, designed to improve police family relationships, was hosted by the Grand Rapids Police Department (MI) and held at the Prince Conference Center on the campus of Calvin College in Grand Rapids, Michigan. Police couples from west central Michigan police departments were taken through a variety of activities. Attendees were exposed to The Five Love Languages by noted counselor Gary Chapman. This class was facilitated by Colin and Catherine Nanton, police training facilitators from Ontario, Canada. Over the two day conference attendees obtained paperwork to secure powers of attorney for financial matters, for health matters and a living will. Two classes on financial health were devoted to the use of a trust to help secure one's estate and the power of basic investing. The group processed a video on the topic of emotional survival and concluded the conference by way of a facilitated discussion on issues of the Language of Apology (for our police officers) and the joys and challenges of living in a police family (for our spouses and significant others). Conference evaluations demonstrated both a recurring need for this type of education and the great amount of learning the attendees experienced.

Special thanks to:
The Grand Rapids Police Department;
Calvin College;
The Members Trust Company and COO Neil Archibald;
The Lake Michigan Credit Union, Kristy Kemnic and Douglas Fisher;
Ed Lis, Attorney at Law;
Leo Hendges, Attorney at Law; and
Brent T. Geers, Attorney at Law.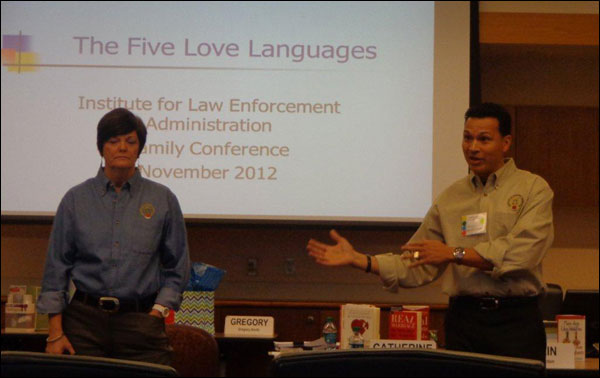 Catherine and Colin Nanton, police trainers from Ontario, Canada, facilitate the Five Love Languages for Grand Rapids, Michigan area police officers and spouses.