JOURNAL OF LAW ENFORCEMENT LEADERSHIP AND ETHICS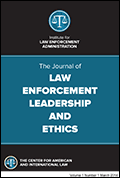 Ordering Information
Hard Copy: $10
Electronic Copy (pdf): $10
The purpose of the peer reviewed publication, The Journal of Law Enforcement Leadership and Ethics, is to advance the thinking and practice of police leaders by providing a meaningful forum and resource clearinghouse for the best ideas and practices in law enforcement leadership and ethics. In order to achieve this mission, we call for papers chiefly from academics and practitioners in law enforcement who are involved in the intense examination of issues important to the noble profession of policing.
The latest edition of ILEA's Journal of Law Enforcement Leadership and Ethics is now available. We believe this journal is an important source of crucial information for those who work in the professions of law enforcement, corrections, and public service. Topics for Volume 3, Number 1:
Notes from the Editor: Sea Change: Law Enforcement in an Era of Dramatic Social Change
Exchanging Ideas Around the Family Table: Thoughts on How CJ and PA Can Benefit One Another and a Call to Action
Leadership in Police Regionalization: Why Mission Matters?
Negative Ethical Implications: Arkansas's Minimum Requirements for Law Enforcement
In addition, the following editions are available for purchase:
Volume 1, Number 1:
Mortality of a Police Cohort: 1950-2005;
Association Between Police-Specific Stressors and Sleep Quality: Influence of Coping and Depressive Symptoms; and,
Police Work Absence: An Analysis of Stress and Resiliency.
Volume 2, Number 1:
Posttraumatic Stress Disorder an Alcohol Drinking Behavior
Building Highly Ethical Municipal Law Enforcement Organizations
Emotional Intelligence: The Value of the Construct for Executives and Senior-Level Correctional Leadership
Revisiting Quantitative Accountability Indicators in Municipal Police Departments and County Sheriffs' Offices
We hope you enjoy this publication and many varied topics we will bring to you in the future!
Submissions Requirements:
For each submission to the journal the following are required:
Full name
Contact information - email address and telephone number(s)
Street address for mailing
Each manuscript chapter should be between 10-15 pages in length, double-spaced pages, and include a full, formal list of citations on a "Works Cited" page
Written in Times Roman, size 12 font, and according to APA guidelines
Appropriate use of major heading and sub-headings
Please feel free to incorporate charts, graphs, or other illustrations to assist with the learning process. The materials available through NIJ and DOJ are considered public domain, thus no prior approval is required to reprint these materials. If, however, you chose to use materials that are not within the public domain, please secure the proper written approval.

As a contributing author, the ILEA will provide complimentary copies of off-prints of your article attached in an email to you for your download and use. If you have any questions direct them to:

Dr. Rick Holden, The Center for American and International Law
5201 Democracy Drive
Plano, Texas 75024
+1.972.244.3430
rholden@cailaw.org