Energy Law Advisor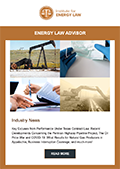 Inside the Latest Issue:
Regulation of Safety and Health on U.S. Offshore Wind Energy Facilities
Update: Dakota Access Requests SCOTUS Review of NEPA Interpretation
Pennsylvania Making a Renewed Push to Open the Doors to Community Solar Projects
Louisiana Appellate Courts Weigh In On R.S. 30:16 Citizen Suits
Eminent Domain Reform in Texas: A Guide for Going With the Flow
Community Solar Legislation Introduced in Ohio General Assembly
New Legislation Signals Strong Support for Carbon Capture, Use, and Sequestration in Texas
Diversity, Equity & Inclusion Highlight
The IEL Welcome Mat and New Members
The Energy Law Advisor, the IEL's online newsletter, is published four times each year. Because the Institute for Energy Law brings together some of the best minds from every area of the energy industry, the ELA is a wonderful vehicle for both tapping their understanding of the key legal issues facing the industry and for reaching the people who need the information.
The publication is managed by the Editorial Board, under the chairmanship of Kelly Ransom (New Orleans, Louisiana).
Kelly Ransom
Managing Editor, Energy Law Advisor, Institute for Energy Law
To submit an industry news item for the next issue, contact Kelly Ransom at kelly.ransom@kellyhart.com and Vickie Adams at vadams@cailaw.org.
Energy Law Advisor Archive
2021

2020

2019


2018


2017
2016
2015

2014

2013

2012