The Institute for Law and Technology (ILT) is pleased to announce its 51st Annual Conference on Intellectual Property Law to be held on November 11-12, 2013 at The Center for American and International Law in Plano, Texas.
This intensive and interactive program has been organized by co-chairs Lawrence J. Bassuk, Deputy General Patent Counsel at Texas Instruments, Inc., and David Taylor, Assistant Professor at SMU Dedman School of Law.
Conference highlights will include:
Differing Approaches to Patent Law - The Supreme Court and the Federal Circuit, a panel discussion featuring Federal Circuit Judge S. Jay Plager.
Cutting Edge Issues in Patent Litigation, a panel discussion featuring District Judges Leonard Davis and Lee Yeakel
Functional Patent Claims and the Government's Approach to Shutting them Down, Professor Dennis Crouch
The World of Litigation, Some Thoughts on Where We Are Today, the Hon. Patrick E. Higginbotham
What We Can Learn from an Empirical Study of Copyright Infringement Litigation
Growing a Brand in an Era of Globalization
Drafting and Negotiating Technology Transaction Agreements
Plus annual patent, copyright, and trademark law updates
This program is approved by the State Bar of Texas for 16.5 MCLE hours, including 3.25 hours of ethics.
Click here for further details and to register.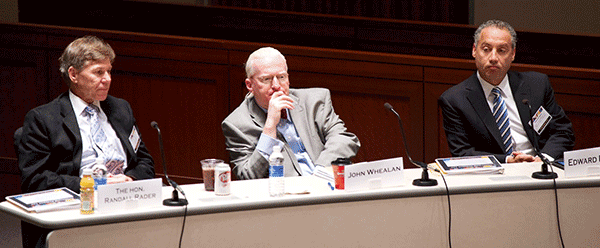 50th Annual Conference on Intellectual Property Law (2012)