Leadership Class
The Institute for Energy Law (IEL) is pleased to announce the 5th Leadership Class. Forty-one accomplished professionals were selected to take part in the 2022-2023 class. The class consists of attorneys from ten states, Canada, and Mexico. Their experience in the field ranges from three to thirteen years. While many of the class members work in oil and gas litigation and transactions, several members also have experience in areas such as environmental, regulatory, construction, commercial, ESG, leasing, royalty, renewables, LNG, CCUS, finance, and much more.
Class members are dedicated to the communities in which they live, and their pro bono efforts. The class includes several avid travelers, athletes (soccer, gymnastics, sporting clays, swimming, running, hockey, and more), cooks, musicians, and a SCUBA diver.
Sessions for the class will begin online in July and the class will attend a retreat in October. The class will continue through spring 2023 with webinars, networking events, and other programming geared specifically towards young energy professionals.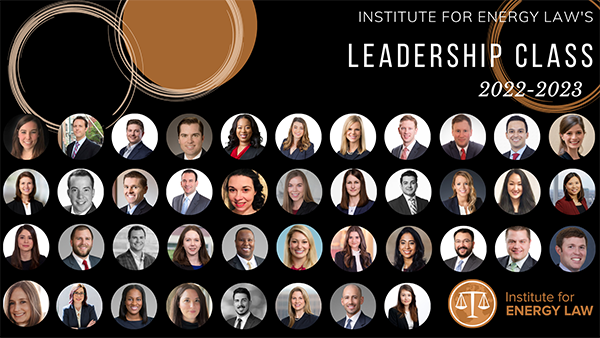 The 2022-2023 IEL Leadership Class consists of the following individuals:
Megan Anderson, ConocoPhillips Company
Brian Annes, Sentinel Peak Resources
Andrew William Bell, Michelman & Robinson, LLP
Henry D. Benton, Locke Lord LLP
Lindsay Lombard Buchanan, Baker Botts LLP
Lindsay McNeil Contreras, Frost Brown Todd LLC
Tiffany Dupree, Jones Walker LLP
Jude Andrew Dworaczyk, Valero Energy Corporation
Matthew Charles Eagan, Sentinel Midstream
Francisco J. Escobar-Calderon, Norton Rose Fulbright US LLP
Abigail (Abbie) Farmer, Shell USA, Inc.
Bonnie Cantwell Fraase, Yetter Coleman LLP
Thomas J. Galligan, Reed Smith LLP
Andrew F. Gann, Jr., McGuireWoods LLP
Benjamin Gonsoulin, Baker Botts L.L.P.
Mary Hunter Gramling, State of Alaska, Department of Law
Rhianna Hoover, Debevoise & Plimpton, LLP
Gina Kantos, Reed Smith LLP
M. Imad Khan, Winston & Strawn
Alexandria D. Lay, Steptoe & Johnson PLLC
Jennifer Lee, First Solar, Inc.
Ming Lei, McDermott Will & Emery LLP
Marilu Lopez Peralta, Shell
Caleb Joseph Madere, Liskow & Lewis
Jonathon McCartney, Double Eagle Energy Holdings
Megan Morgan, Beveridge & Diamond, P.C.
Jared Elijah-Akeem Nelson, Liskow & Lewis
Gabriella "Gabe" Oxford, Pillsbury Winthrop Shaw and Pittman LLP
Julia Peebles, Haynes and Boone, LLP
Priya Giyarpuram Prasad, Department of Commerce
Marcos Rosales, Beck Redden LLP
Adam Jonathan Russ, Gordon, Arata, Montgomery, Barnett, McCollam, Duplantis & Eagan, LLC
Daniel Stanton, Kean Miller LLP
Tiffany Sumrall, Shell USA, Inc.
Samantha Leigh Thompson, Hogan Thompson LLP
Amy Elizabeth Tomlinson, Liskow & Lewis
Claudia Trevino, Repsol USA
Michael Ventocilla, White & Case LLP
Courtney Rose Wade, Jackson Walker
Adam Whitehouse, Gibson, Dunn & Crutcher LLP
Lara Yeung, Shell Canada Limited
Program
Most of the program will be conducted online, but an in-person class retreat will be held on October 4, 2022, in New Orleans, Louisiana, proceeding the 6th National Young Energy Professionals' Law Conference. Attendance is expected at the retreat absent pre-approval during the application process for extenuating circumstances.
The program will begin with online programming and networking events in August 2022 and will feature online programming approximately every two weeks for the first few months and additional online education and social events for the remainder of the class.
Class members will be allowed to attend the 6th National Young Energy Professionals Law Conference October 5-6, 2022, in New Orleans, Louisiana, and the 74th Annual Energy Law Conference, in Houston, Texas on February 16-17, 2023, for free.
Questions
If you have questions regarding the Leadership Class, please contact:
Vickie Adams
IEL Deputy Director
972.244.3421
vadams@cailaw.org