Leadership Class
The Institute for Energy Law is now accepting applications for the 2022-23 Leadership Class. This prestigious program is primarily for energy professionals who have been practicing in the energy field between three and twelve years. Generally, class members are under forty years of age. Although members are largely attorneys, prior classes have included consultants, accountants, and other types of energy professionals. Prior classes have included individuals from large and small law firms, in-house legal departments, government, law professors, consultant firms, and others.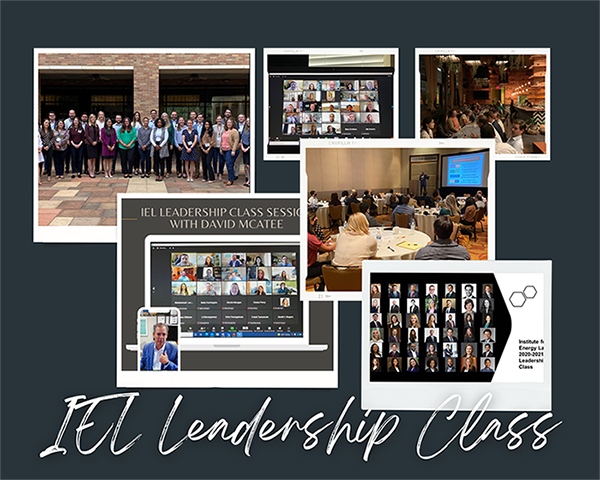 Why Apply?
Through participation, class members will increase their knowledge of leadership, communication, diversity, and the energy industry. Participants will also discover their strengths and weaknesses, the traits of excellent leadership, and opportunities for success as energy professionals in today's climate. In addition, class members will build strong bonds with their fellow class members, establish relationships with IEL leaders, and have increased opportunities within IEL.
Program
Most of the program will be conducted online, but an in-person class retreat will be held on October 4, 2022, in New Orleans, Louisiana, proceeding the 6th National Young Energy Professionals' Law Conference. Attendance is expected at the retreat absent pre-approval during the application process for extenuating circumstances.
The program will begin with online programming and networking events in August 2022 and will feature online programming approximately every two weeks for the first few months and additional online education and social events for the remainder of the class.
Class members will be allowed to attend the 5th National Young Energy Professionals Law Conference October 5-6, 2022, in New Orleans, Louisiana, and the 74th Annual Energy Law Conference, in Houston, Texas on February 16-17, 2023, for free.
Costs & Direct Benefits
The program fee is $650, which provides individuals with the following direct benefits:
Associate Membership in IEL for the remainder of 2022 and all of 2023
Participation in all Leadership Class Events, including an in-person retreat
Free registration to the 74th Annual Energy Law Conference
Free registration to the 6th National Young Energy Professionals' Law Conference
Free registration for any young energy professional conference or programs
Free registration for all IEL webinars
Free registration for all online conferences
Free registration for all events free for IEL Advisory Board Members
Ability to participate on all IEL Practice Committees
Application
To apply, please complete the application found at this link and submit your resume to Ryan Frome-Pezzulli at rfrome@cailaw.org. The application deadline is Wednesday, June 1, 2022.
Questions
If you have questions regarding the Leadership Class, please contact:
Vickie Adams
IEL Deputy Director
972.244.3421
vadams@cailaw.org