Leadership Class
The Institute for Energy Law (IEL) selected its 4th Leadership Class in July 2021. This prestigious program is primarily for energy professionals who have been practicing in the energy field between three and twelve years. Class members are selected by a committee after completing an application process.
Through participation, class members will increase their knowledge of the energy industry, leadership, communication, diversity, and careers in energy. Participants will also discover their strengths and weaknesses, the traits of excellent leadership, and opportunities for success as energy professionals in today's climate. In addition, class members will build strong bonds with their fellow class members, establish relationships with IEL leaders, and have increased opportunities within IEL.
Forty accomplished professionals were selected by a committee to take part in the 2021-2022 class. The class consists of attorneys and an economist from nine states, the District of Columbia, and Mexico. Their experience in the field ranges from three to twelve years. While many of the class members work in oil and gas litigation and transactions, several members also have experience in areas such as project finance, title, toxic tort, antitrust, power, renewables, shareholder disputes, LNG, real estate, international disputes, ESG, bankruptcy, employment, and much more.

Class members are dedicated to the communities in which they live and their pro bono efforts. The class includes several avid travelers, parents, athletes (running, soccer, ice hockey, sailing, and more), cooks, and an avid Lego builder.

Sessions for the class will begin online in September and the class will meet for a mandatory retreat in October. The class will continue through spring 2022 with webinars, networking events, and other programming geared specifically towards young energy professionals.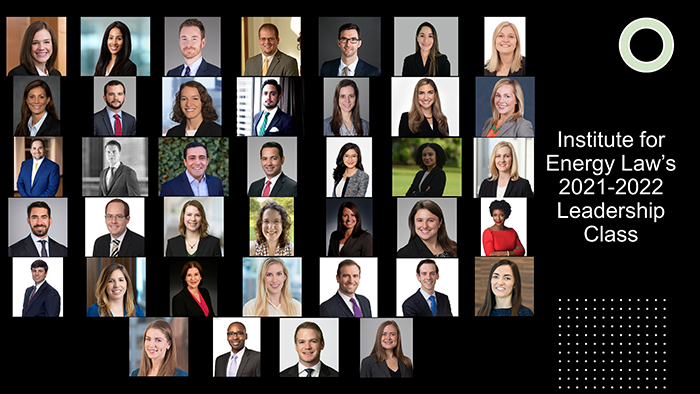 The 2021-2022 IEL Leadership Class consists of the following individuals:
Lynn V. Abell, Willkie Farr & Gallagher LLP
Huma Ali, Munsch Hardt Kopf & Harr, P.C.
Nugent D. Beaty, Jr. (D.J.), Haynes and Boone, LLP
Aaron M. Bruggeman, Bricker & Eckler LLP
John M. Byrom, McCarn & Weir, P.C.
Cecilia Cahuayme-Zuniga, Locke Lord LLP
Eduardo Marquez Certucha, Sidley Austin LLP
Brittany Covert, Norton Rose Fulbright US LLP
Whitney Cox, ConocoPhillips Company
Vanessa Dittman, Shook, Hardy & Bacon, LLP
Edward Duhe, Liskow & Lewis
Katherine Harrington, Foley & Lardner LLP
Max Ernesto Hernandez Ernult, Sánchez Devanny Eseverry, S.C.
Islara Irgit, Exxon Mobil Corporation
Nicole Jensen, Reed Smith LLP
Tyler Kostal, Kean Miller LLP
Alex Kuiper, Kuiper Law Firm, PLLC
James Langlois, White & Case LLP
Mohammed Loraoui, U.S. Department of Commerce
Li Yi Moneypenny, Shell Oil Company
Trinity A. Morale, Liskow & Lewis
Stephanie Noble, Vinson & Elkins LLP
Zachary P. Oliva, Kiefaber & Oliva LLP
Jeffrey Oliver, Baker Botts L.L.P.
Emma Perry, Yetter Coleman LLP
Erin Potter Sullenger, Williams Companies
Diana Prulhiere, Steptoe & Johnson PLLC
Niki Roberts, Akin Gump Strauss Hauer and Feld LLP
Tiajuana (TJ) Robinson, Halliburton
David John Rogers, Ottinger Hebert, L.L.C.
Brooke Sizer Williamson, Holland & Knight LLP
Sarah Steward, Exxon Mobil Corporation
Kim Stouffer, McGuireWoods LLP
Frank L. Tamulonis, Blank Rome LLP
Oliver Peter Thoma, King & Spalding LLP
Elizabeth Thomas, McGuireWoods LLP
Julia C. Williams, NERA Economic Consulting
Ewaen Woghiren, Jones Walker LLP
Jared Young, Holland & Knight LLP
Erica Elizabeth Youngstrom, Baker & Hostetler LLP
Questions
If you have questions regarding the Leadership Class, please contact:
Vickie Adams
IEL Deputy Director
972.244.3421
vadams@cailaw.org