The Institute for Law and Technology
(ILT) at The Center for American and International Law (CAIL) is pleased to announce it is creating a new Young Technology Professionals (YTP) group. The YTP initiative, led by ILT Advisory Board member Miles Indest (McGuireWoods LLP), aims to create a community that meets the needs of individual attorneys, experts, and other professionals and industry participants under the age of 40 or who have less than eight years of practice or work in their field.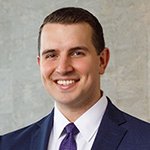 "I'd like to thank the inaugural members of the YTP's Executive Committee for their passion, dedication, and willingness to build something new," shared Indest. "We look forward to developing this initiative and have already discussed ambitious plans for the creation of a YTP newsletter in September, CLE opportunities, networking events and happy hours, and eventually, an in-person annual YTP conference."
The decision to develop this community of young technology professionals was lauded by ILT director Wendy Castellana and ILT's volunteer leaders, Advisory Board Chair Justice John G. Browning (Spencer Fane LLP), and Vice Chair Dr. Clint Wilkins (Haynes and Boone, LLP).
"We are excited about the direction in which Miles and the YTP executive committee members want to take this fantastic initiative," stated Wendy Castellana, Director of ILT and Vice President of CAIL. "We look forward to the YTP group's kickoff meeting at ILT's 60th Annual Intellectual Property Conference this November."
The group Indest has assembled to help create ILT's YTP initiative spans various states, career expertise, and private/public industries. ILT Advisory Board members can choose to join the YTP practice committee, which will otherwise consist of YTP members and full-time college/university/or law student members. Supporting and Sustaining ILT members will have additional advisory board member positions to include young practitioners.
ILT Young Technology Professionals Executive Committee Members:
Chair: Miles O. Indest - McGuireWoods LLP (Houston, TX)
Summer Ayala - Computer Forensic Services Inc. (Dallas, TX)
Kate Clark - Gordon, Arata, Montgomery, Barnett, McCollam, Duplantis & Eagan, LLC (New Orleans, LA)
Kellie L. Constantine - J.D. Candidate at Tulane University Law School (Metairie, LA)
Matthew W. Cornelia - McGuireWoods LLP (Dallas, TX)
Leiza Dolghih - Dolghih Law Group PLLC (Dallas, TX)
Ryan J. Frankel - McGuireWoods LLP (Houston, TX)
Dylan D. Gilbert - National Institute for Standards and Technology (NIST) (Gaithersburg, MD)
Casey McNeil - Vendera Mobile (Houston, TX)
Shannon Montgomery - Creedon PLLC (Frisco, TX)
Alex Shahrestani - Promise Legal PLLC (Austin, TX)
Ashley E. Smith - Shearman & Sterling LLP (Austin, TX)
Demetrius D. Sumner - United States Attorney's Office (Baton Rouge, LA)
Betty X. Yang - Gibson, Dunn & Crutcher LLP (Dallas, TX)
---
About the Institute for Law and Technology - The Institute for Law and Technology (ILT) was founded in Plano, Texas, in 2003 as the newest division of The Center for American and International Law (CAIL), an international nonprofit educational institution for lawyers, judges, and law enforcement professionals. ILT is a premier national and global forum on intellectual property and technology-related legal issues of policy and practice affecting counsel and companies in the digital age. ILT provides members of leading national and international corporations, law firms, attorneys, professors, and the public with continuing education and professional opportunities such as annual conferences, seminars, and other membership activities.