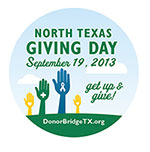 Will You Help Us?
CAIL is pleased to be participating in Get Up & Give!, North Texas Giving Day on September 19 from 7 a.m. to 12 midnight.
On that day, every donation $25 and above will be multiplied if you give via DonorBridge, North Texas' online resource that connects donors with nonprofit organizations like us.
Simply click here between 7 a.m. and 12 midnight on September 19 and make a gift that's meaningful to you. Your participation will also make CAIL eligible for the various cash prizes on offer.
Your generous donation will go a long way in helping us improve the quality of justice through continuing education to lawyers and law enforcement officials in the United States and throughout the world.
If you do anything on Thursday, Get Up and Give!