How can the criminal justice system consistently perform, as it should, convicting only those individuals who are guilty of committing crimes?
In an effort to prevent wrongful convictions, The Center for American and International Law (CAIL) holds educational conferences on Actual Innocence. Funded by a grant from the Texas Court of Criminal Appeals, these programs help defense attorneys, prosecutors, judges and law enforcement professionals understand how wrongful convictions can occur and learn latest scientific data on forensic and investigative techniques.
In late July, CAIL took its Actual Innocence Program on the road with stops in Austin, Harlingen, and San Antonio to reach more constituents across the state.
"I wish to thank you all again for a truly wonderful presentation yesterday. In 33 years of practice, I have never bothered to send a follow-up 'thank you' email following a seminar, but the one yesterday really was one of the best ones I have ever attended," said Travis Williamson, a defense attorney who came to the Austin program.
The program featured an in-depth review of the wrongful conviction of Richard Miles, who spent 14 years in prison for a murder he did not commit before being exonerated. Mr. Miles, who is a 2019 CNN Hero nominee for his work helping formerly incarcerated individuals, gave a detailed personal account of his case during the program.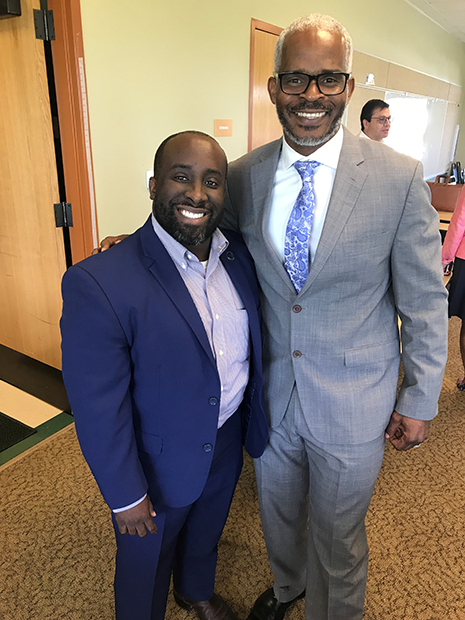 Photo caption: From left: Matthew Manning, First Assistant District Attorney, Nueces County, with Richard Miles.
Leading the program were Cynthia Garza from the Dallas County District Attorney's Office and Cheryl Wattley, from the University of North Texas College of Law.
"All three of you are clearly making a difference, not only with the tremendous work you each do with your regular daily jobs but with your presentation of this program. I thank each of you for making a real difference," added Mr. Williamson.
CAIL will hold its next Actual Innocence Programs in Plano, Texas, August 28-30, 2019. Find more information here.
--Ellen Beth Levitt