Trial lawyer David J. Beck will receive CAIL Award during April 17 event in Houston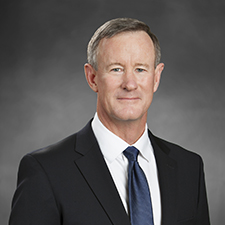 Admiral William H. McRaven (U.S. Navy, Retired), an authority on U.S. foreign policy and defense who served as Commander of U.S. Special Operations, will be the featured speaker at the Center for American and International Law's Higginbotham Lecture on April 17, 2019, in Houston. The title of his talk is "The Rule of Law in a Troubled World."
During his time in the military, Admiral McRaven served in wars in Iraq and Afghanistan and commanded special operations forces at every level, eventually taking charge of the U.S. Special Operations Command. He planned and led the raid by Navy Seals on Osama bin Laden's compound in which the Al Qaeda leader, the mastermind behind the attacks on 9/11, was killed.
In 2015, Admiral McRaven took the reins of one of the nation's largest university systems as Chancellor of The University of Texas System, a position he held until 2018. He is currently a professor of national security at UT Austin and the author of two books, SPEC OPS: Case Studies in Special Operations Warfare and Make Your Bed: Little Things That Can Change Your Life and Maybe the World.
The Center for American and International Law (CAIL) Award of Achievement
At the Higginbotham Lecture, the Hon. Lee H. Rosenthal, Chief Judge, Southern District of Texas, will present the CAIL Award for Achievement in the Pursuit of Justice for All to David J. Beck. The award will honor Beck, who is known as one of the nation's best trial attorneys, for his leadership, vision, courage and commitment to the rule of law and equality of justice.
Mr. Beck is a former chair of the CAIL Board of Trustees and the founding partner of the firm Beck Redden. He has earned a stellar reputation for successfully representing clients during his 40 years in practice and has been recognized for his expertise numerous times. For example, the National Law Journal named him as one of the top 10 trial lawyers in the United States. From 2003–2018, a statewide survey by Texas Monthly listed him as one of Texas' "Top 10 Super Lawyers."
Mr. Beck is a past president of the State Bar of Texas, a past president of the American College of Trial Lawyers, and a fellow of the International Academy of Trial Lawyers.
About the Higginbotham Lecture
The Center for American and International Law created the Higginbotham Lecture series in 2013 to honor Judge Patrick E. Higginbotham for the 12 years he served as chair of its Board of Trustees.
"The annual Higginbotham Lecture is consistent with our mission to improve the quality of justice across the United States and throughout the world," said CAIL Vice President of Development B. Susan Davis. "Our goal is to stimulate meaningful commentary, education and discussion. The event also raises needed funds to help CAIL fulfil its mission."
CAIL's five Institutes and special programs provide continuing education to lawyers and law enforcement officials throughout the year. In fiscal year 2018, CAIL held 89 programs with more than 5.800 attendees from 42 U.S. states and 53 countries.
The 2019 Higginbotham Lecture will be held at 12 p.m. on April 17, 2019, at the Hyatt Regency Houston, 1200 Louisiana St. Houston, Texas 77002. For more information, please visit www.cailaw.org/lecture.
Media Contact: Ellen Beth Levitt | 972-244-3437 (office), 410-598-4711 (mobile) | eblevitt@cailaw.org