We would like to congratulate Mark Smith, David Winn, and IB!
30 YEARS | Mark Smith is leader. He is the CAIL Senior Vice President who is currently serving as the Interim President and Director of The Southwestern Institute for International and Comparative Law. Mark is a transparent leader who builds teams through honesty, respect, and benevolence. His service and reputation extends beyond The Center to a worldwide audience.
20 YEARS | David Winn serves as Vice President of The Center for American and International Law and Director of the Institute for Transnational Arbitration. David has been instrumental in seeing significant growth within the ITA over his tenure as Director and is also highly recognized in the world of arbitration. Fun fact: David is a direct decedent of one of Dallas' earliest founding families!
9 YEARS | IB joined the joined CAIL in 2010. She is the Associate Director for our Criminal Law and Actual Innocence Programs. These programs are funded by a grant from the Texas Court of Criminal Appeals. IB holds a Master's Degree in Foreign Languages specializing in International Business from Cornell University and a Master's Degree in Conflict Resolution from Southern Methodist University. She can often be spotted burning midnight oil to get the job done!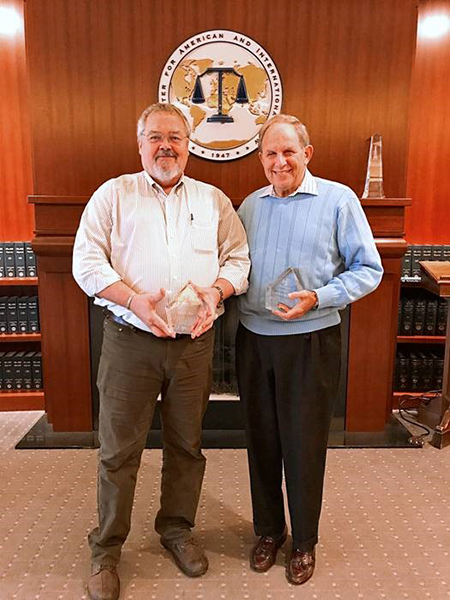 Pictured left to right: David Winn and Mark Smith