Lawyers and judges from Louisiana, Mississippi, and Texas joined a stellar faculty in New Orleans last month to discuss the latest developments in bankruptcy at The Center for American and International Law's (CAIL) Fifth Circuit Bankruptcy Bench-Bar Conference.
Conference highlights included plenary sessions featuring Ethics, The Latest Developments On Arbitration In Bankruptcy, Supreme Court Update, Introducing The New Judges, and Good Faith In The Filing Of Involuntary Bankruptcy Cases; a luncheon address from American Bar Association President Judy Perry Martinez; presentation of the 2020 Michelle Mendez Awards; breakout sessions focusing on hot topics in business and consumer practice; and a state-by-state breakfast session.
To quote a few of the participants: "Very well run! One of the best bankruptcy conferences in the country;" "The topics were very relevant;" and [I liked best] "the interplay of comments between judges and practitioners."
The Planning Committee, led by Conference Co-Chairs The Hon. Stacey G.C. Jernigan, The Hon. Neil P. Olack, and The Hon. Robert R. Summerhays, provided outstanding guidance and planning: Omar J. Alaniz, Brooke W. Altazan, Bob Byrd, Elizabeth J. Futrell, Tylvester Goss, The Hon. Meredith S. Grabill, Jan M. Hayden, Shari L. Heyen, The Hon. Ronald B. King, The Hon. John W. Kolwe, Kimberly R. Lentz, Demetra L. Liggins, The Hon. Christopher M. Lopez, The Hon. Selene D. Maddox, The Hon. E. Lee Morris, Dwayne Murray, Douglas C. Noble, Cherie Dessauer Nobles, Ian Peck, Rebecca L. Petereit, Louis M. Phillips, Rosamond Hawkins Posey, David S. Rubin, The Hon. Katharine M. Samson, Olivia Spencer, Louis R. Strubeck, Jr., and The Hon. Jason D. Woodard.
CAIL presents the Fifth Circuit Bankruptcy Bench-Bar Conference every two years. We look forward to seeing everyone in 2022!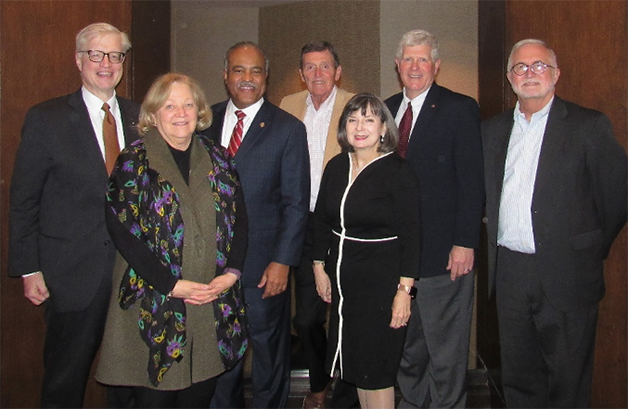 Photo caption: Several past and present Michelle Mendez Serviam Awardees, L to R: Awardees Professor John M. Czarnetzky, Jan M. Hayden, Dwayne M. Murray, Robert A. Byrd, Elizabeth G. Smith, Stephen W. Rosenblatt, shown with Judge Harlin D. Hale