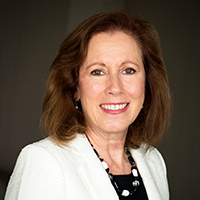 The Center for American and International Law ("CAIL") is pleased to announce the appointment of Mimi Bishop as its new Vice President for Advancement. As VP, she will oversee CAIL's development department, which handles donor relations, community outreach, and spearheading CAIL's 75th Anniversary fundraising campaign. Bishop joined CAIL on May 5, 2022.
"As we continue to take steps towards realizing our strategic vision for CAIL's future, developing a strong advancement program cannot be overstated," said T.L. Cubbage, President of CAIL. "Mimi brings deep experience building and managing advancement programs for various nonprofit and educational organizations. We welcome her with open arms and have strong confidence in her ability to develop a successful advancement program and foster a strong culture of giving at CAIL."
A graduate of the University of Toledo, Bishop has nearly 20 years of professional fundraising experience and most recently worked at Girls Inc. of Metropolitan Dallas. Her work was exemplary in creating a development plan to fund the organization's growth as it began scaling to serve 25,000+ girls annually in the area. With her experience directing the development efforts at the Children's Advocacy Center of North TX, where she completed a capital campaign, and ten years as the Director of Annual Gifts at Ursuline Academy of Dallas, Bishop's skills in raising funds for nonprofit organizations are widely lauded in the DFW community.
"I'm delighted to join The Center for American and International Law during its 75th anniversary. After 18 years on this path, I am excited for the opportunities that will come from developing a culture of philanthropy at CAIL," stated Bishop. "There are so many ways the organization can grow its mission with the increased resources philanthropy will provide, and I am eager to get started."
---

About The Center for American and International Law - Founded in 1947, The Center for American and International Law is a nonprofit institution based in Plano, Texas, dedicated to improving the quality of justice by providing continuing education to lawyers and law enforcement officials in the United States and throughout the world. Since its founding, CAIL's educational institutes have established internationally recognized forums and educational programming addressing law enforcement administration, energy law, international and comparative law, transnational arbitration, law and technology, criminal justice, and other relevant topics. During its 75-year history, CAIL has served tens of thousands of lawyers and law enforcement officers from all 50 states and 130 countries. Visit cailaw.org to learn more.
MEDIA CONTACT: Karla Lárraga
(972) 244-3436 | klarraga@cailaw.org