The Center for American and International Law ("CAIL") has announced its 75th Anniversary Gala and Great Leaders Award presentation honoring Senator Kay Bailey Hutchison. The event will be held from 6:00 PM to 9:30 PM on Wednesday, October 19, at The Statler Hotel in downtown Dallas.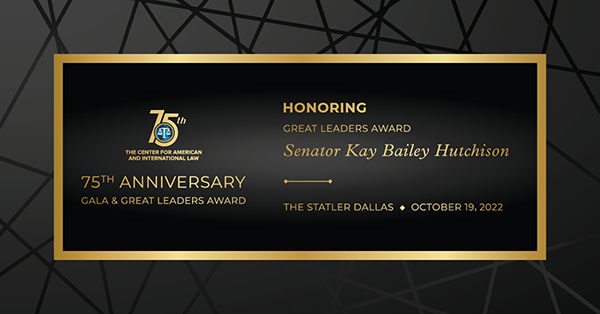 Since its founding in 1947, CAIL has dedicated itself to advancing justice through the education of tens of thousands of lawyers and law enforcement professionals worldwide. The Gala will celebrate CAIL's rich history and raise financial support to expand its justice programs.
"For 75 years, CAIL and our institutes have created cutting-edge programs, conferences, publications, and events for lawyers, judges, and law enforcement professionals to impact the communities they serve," stated T.L. Cubbage, CAIL's president. "Our 75th Anniversary Gala will be an exciting opportunity to celebrate this incredible milestone and ensure CAIL's impact is felt for generations to come."

The Gala will feature a dinner reception and the presentation of CAIL's Great Leaders Award to former United States Senator and former United States Ambassador to NATO Kay Bailey Hutchison. The Great Leaders Award, last presented in 1980, recognizes an American citizen whose inspiring leadership vision and judgment have contributed to the welfare of the world, our nation, and our community, and the happiness and dignity of the individual in accord with the great traditions of the administration of justice under law. Randall Ebner, chair of CAIL's board of trustees, will join Hutchison following the award presentation for a fireside chat highlighting impactful moments from her illustrious career, international experience, and unique perspective on promoting the rule of law in the context of current global events in Ukraine.

"Funding raised through the Gala will provide resources to support and promote the rule of law and the justice system. This support will fund scholarships to provide ethics training for police departments and assist international lawyers from developing countries to attend CAIL's Academy of American and International Law," said Mimi Bishop, CAIL's vice president for advancement." The need for education to promote and ensure justice both in our local communities and globally is now more critical than ever."
Sponsorship opportunities are now available. Please contact Mimi Bishop at mbishop@cailaw.org for sponsorship details. For more information and updates about the Gala, please visit CAIL's 75th Anniversary Gala's website and follow CAIL on social media @CAIL_Law.


---

About The Center for American and International Law - Founded in 1947, The Center for American and International Law is a nonprofit institution based in Plano, Texas, dedicated to improving the quality of justice by providing continuing education to lawyers and law enforcement officials in the United States and throughout the world. Since its founding, CAIL's educational institutes have established internationally recognized forums and educational programming addressing law enforcement administration, energy law, international and comparative law, transnational arbitration, law and technology, criminal justice, and other relevant topics. During its 75-year history, CAIL has served tens of thousands of lawyers and law enforcement officers from all 50 states and 130 countries. Visit cailaw75.org to learn more.
MEDIA CONTACT: Karla Lárraga
(972) 244-3436 | klarraga@cailaw.org