The Center for American and International Law (CAIL) will honor the profound contributions and legacies of attorneys Charles W. Hall and the late Stephen D. Susman at the "Legacy & Leadership CAIL Awards Luncheon" on November 30 in Houston.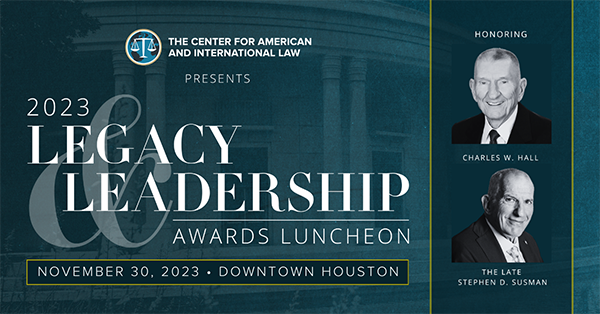 Hall, a preeminent figure in the tax world as Norton Rose Fulbright's senior tax practitioner and a valued member of CAIL's board as a Trustee Emeritus, will receive CAIL's Lifetime Achievement Award. With significant representations of major corporations and a reputation as a national "senior statesman" in tax litigation, Hall's connection with CAIL spans over 68 years, tracing back to his early work as a young lawyer with CAIL's founder, Robert G. Storey. Hall's important roles in the American Bar Association, State Bar of Texas, and American College of Tax Counsel, among other professional organizations, combined with his leadership in nonprofits such as M.D. Anderson Foundation, Southwest Research Institute, and Texas Medical Center emphasize his profound influence in law and his unwavering commitment to education, community enhancement, and philanthropy.
Susman, whose legal career spanned over 55 years, will be posthumously honored with the Achievement in the Pursuit of Justice for All Award. Beyond founding and nurturing the growth of the prestigious litigation firm Susman Godfrey, Susman's unparalleled track record in handling complex, high-profile cases, his profound belief in mentoring young lawyers, and his relentless mission to uphold and champion civil jury trials speaks volumes about his legacy and unwavering commitment to justice.
"In honoring Charles W. Hall and the late Stephen D. Susman, we recognize their enduring dedication to the principles we hold dear at CAIL," stated Thomas (T.L.) Cubbage, CAIL's president. "Their profound influence on the legal community underscores the pivotal role individuals can play in shaping that profession, as well as promoting a more just society. By celebrating their vast achievements, we not only pay tribute to their legacies but also inspire future generations of legal leaders to champion professionalism and justice with the same fervor and integrity."
The luncheon offers an invaluable platform for the Houston legal and business community, facilitating connections and fostering collaboration. Those sponsoring the event will directly benefit CAIL's initiatives to champion the administration of justice. Through these contributions, we work towards a world where the rule of law is paramount, and justice is universally accessible. For sponsorship inquiries, please contact Rebecca Trejo at rtrejo@cailaw.org or 972-244-3438.
__________

About The Center for American and International Law - Founded in 1947, The Center for American and International Law (CAIL) is a nonprofit institution based in Plano, Texas, dedicated to advancing justice and promoting the rule of law through the professional development of legal and law enforcement practitioners worldwide. Today, CAIL's educational institutes have established internationally recognized forums and programs addressing law enforcement administration, energy law, international and comparative law, transnational arbitration, law and technology, criminal justice, and other relevant topics. Thousands of lawyers and law enforcement officers from all 50 states and 130 countries have participated in CAIL programs.