Other Programs
A Conversation with Journalists Peter Baker and Susan Glasser about Super-Lawyer James A. Baker III
October 6, 2020
Virtual Event
For more information about the event, please contact Vickie Adams or 972.244.3421.

For more information about sponsorship opportunities, please contact Gerri Fitzgerald or 972.244.3432.
Overview
The Research Fellows of The Center for American and International Law (CAIL) invite you to a special fundraising event, The Man Who Ran Washington, A Conversation with Journalists Peter Baker and Susan Glasser about Super-Lawyer James A. Baker III

Event begins at 11:45 am Central
Duration: 75 minutes
Details for connecting to the event will be sent by October 4.
Host Committee
Ambassador Robert Jordan (Ret.)**
David J. Beck * R. Doak Bishop * E. Leon Carter * Randall M. Ebner * Dee J. Kelly, Jr. * Hilda C. Galvan *

Harriet E. Miers * Thomas R. Phillips * Timothy E. Powers * Dale Wainwright

*
Talmage Boston John C. Eichman Mark Smith
** Event Chair
* Event Co-Chair
Speakers
Peter Baker and Susan Glasser Interviewed by Talmage Boston
Peter Baker is the chief White House correspondent for The New York Times where he covers President Trump. He has covered four presidents, two for the Times and two for The Washington Post. He has won all three major awards for White House reporting, two of which he has won twice. The Man Who Ran Washington is Mr. Baker's sixth book.
Susan Glasser is a staff writer at The New Yorker. Glasser has served as editor of several Washington publications. She founded Politico Magazine and served as its editor through the 2016 election. The Man Who Ran Washington is the second book she has co-authored with Peter Baker.
Talmage Boston is a partner in the Dallas office of Shackelford, Bowen, McKinley & Norton, LLP where he handles commercial litigation in both trials and appeals.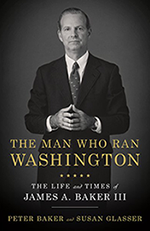 The Man Who Ran Washington is a biography of James A. Baker III, former White House chief of staff and secretary of state—a man who "was the indispensable man for four presidents because he understood better than anyone how to make Washington work at a time when America was shaping events around the world." The discussion will include a focus on the traits that made Mr. Baker both a great lawyer and a most effective national and international leader.
Privacy Policy
We do not sell or rent information to any outside parties. By providing your information, you will receive postal and electronic communications from The Center for American and International Law (CAIL) in accordance with CAIL's Privacy Policy. If we co-sponsor a program with another organization, information may be shared between the parties. All such co-sponsors will be identified on the event details and registration page. At any point, you can opt-out or unsubscribe by selecting either link at the bottom of each email or call us at 972.244.3400.