Other Programs
Bold Voices: One Woman + the Rule of Law
with Hauwa Ibrahim
Dallas, Texas, USA
George W. Bush Presidential Center
2943 SMU Boulevard
Dallas, TX 75205
View Map
About the Event
The Center for American and International Law (CAIL) is proud to present Hauwa Ibrahim, international human rights lawyer at "Bold Voices: One Women + the Rule of Law" at the George W. Bush Presidential Center in Dallas on January 11. Ibrahim, a 2000 alumna of CAIL's Academy of American and International Law, is known worldwide for defending women and children condemned under the Islamic Sharia laws in northern Nigeria.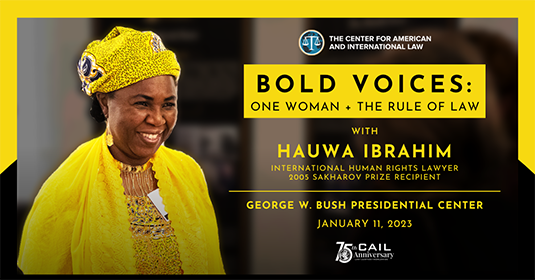 Mark Smith, CAIL's former president, will moderate the conversation with Ibrahim. She will share riveting personal stories from her career, including her role in helping secure intelligence leading to the release of Nigerian school girls kidnapped by Boko Haram. Ibrahim will discuss how this experience inspired her research about tapping into the "soft power of mothers" to modify the structure of injustices to protect children from extremism and fundamentalism.

Registration for this event is complimentary. Registration is required. Event will begin at 6:00 PM.
"Bold Voices: One Woman + the Rule of Law" is a CAIL event promoting the rule of law during its 75th anniversary celebrations. Donations received during fundraising events like this one support CAIL's important work, which includes providing education about the rule of law to lawyers from developing nations, programming surrounding criminal justice and actual innocence, and other educational initiatives advancing justice at home and abroad. To learn more about the program, email Vickie Adams, CAIL's director of special programs at vadams@cailaw.org. For media inquiries, please contact Karla Lárraga, CAIL's communications officer at klarraga@cailaw.org.
Privacy Policy
We do not sell or rent information to any outside parties. By providing your information, you will receive postal and electronic communications from The Center for American and International Law (CAIL) in accordance with CAIL's Privacy Policy. If we co-sponsor a program with another organization, information may be shared between the parties. All such co-sponsors will be identified on the event details and registration page. At any point, you can opt-out or unsubscribe by selecting either link at the bottom of each email or call us at 972.244.3400.