International and Comparative Law
Academy Alumni European Reunion
-
The Hague, Netherlands (and nearby vicinity)
If you are interested in attending, please contact the organizer, Henk ten Voorde.
Questions? Please email Brandon White for additional information about the reunion.
Overview
This program is open to alumni of the Academy of American and International Law.
If you are interested in attending, please contact the organizer, Henk ten Voorde, at henk@lustrouslaw.com. Once we have an idea of the number of likely attendees, the final agenda will be sent with a set registration fee. At that time, you will be asked to confirm attendance and pay the registration fee or to state that you will not attend. Expected costs for the Alumni Meeting to be around EUR 550.
Provisional Program
Thursday, September 28
18:00 - Welcome Drinks and Dinner
---
22:00 – The Hague Nightlife I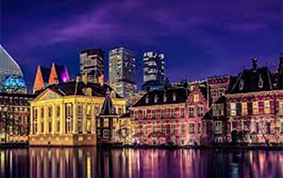 Picture: View of The Hague, with Mauritshuis and Dutch parliament
Friday, September 29 - The Hague, City of Law and Peace
10:00 - Justice and peace from a cultural, technical or freedom perspective
Location: Mauritshuis, Plein 29, The Hague (but you may select an alternative)
---
11:45 Luncheon, Publique, Anna Paulownaplein 4, The Hague
---
13:30 Justice and Peace in a Multipolar World, International Criminal Court, Oude Waalsdorperweg 10, The Hague (Transportation Will Leave Carlton Ambassador Hotel at 13:00)
---
16:30 – Leisure Time
---
19:00 – Dinner, Toko Frederik, Frederikstraat 225, The Hague
---
22:00 – The Hague Nightlife II
Saturday, September 30 - Justice and Peace in Practice in Leiden
09:30 - Departure for Leiden
---
10:00 - Arrival at Leiden
Leiden is an attractive and vibrant market town thanks to more than 30,000 students, of whom a substantial part also live in the city.
When you stroll through Leiden's historic streets and along its many canals, you can imagine yourself being taken back to the 17th century. Home to the famous artist Rembrandt van Rijn, the Pilgrim Fathers (who eventually founded the USA), Dutch royalty (the King studied and lived in Leiden, as did Queen Beatrix) and many renowned scientists (Einstein taught in Leiden, at that time a leading center of Physics).
---
16:00 - End of day program
---
19:00 – Departure for Noordwijk (Leiden Beach)
---
19:30 – Seaside Dinner (Location TBA)
---
22:30 – Departure from Noordwijk or Noordwijk Nightlight
COSTS
At this moment, I expect the costs for the Alumni Meeting to be around EUR 550. Henk estimates having a final budget by 15 September.
HOTELS
Most of you have opted to stay in or near the Carlton Ambassador Hotel. That is an excellent choice, as it will allow us to walk to a few locations and back. You are very also close to the city center of The Hague. Check for instance the nice shops at the Denneweg, the Royal Palace at Noordeinde, even more nice shops at Noordeinde, Lange Voorhout, Kneuterdijk etc.
There are other hotels nearby. So long as you are a short work from the Carlton Ambassador Hotel, any hotel you desire should be acceptable.
VISIT TO THE INTERNATIONAL CRIMINAL COURT (FRIDAY AFTERNOON)
The people that had and used the opportunity to vote on the material part of the program, voted unanimously for a visit to the International Criminal Court. That is what we will be doing and we (only) welcome on
Friday afternoon
. There is not a very strict dress code, but it is still good to look not that casual. Please bring your passport or identity card (EU citizens) as that is mandatory.
Hotels
We currently have four hotel suggestions for you in the center of the Hague, all relatively close to each other. The costs mentioned next to each hotel are the prices found as of 31 July 2023 at Booking.com for a standard room, single occupancy for three nights (28 September – 1 October).
Hilton The Hague, Zeestraat 35 (EUR 614)
Carlton Ambassador, Sophialaan 2 (EUR 400)
voco The Hague, Kneuterdijk 8 (EUR 533)
Hotel des Indes, Lange Voorhout 54-56 (EUR 738).
The first two are closest to each other, with the Hilton offering the most rooms and the Carlton as a nice alternative. Hotel Des Indes is The Hague's most famous hotel.
You may find another hotel as well, but please make sure it is within walking distance (up to 10 minutes) from the Mauritshuis (we will use that as focal point).
Other Information
Nondiscriminatory Policy
The Center for American and International Law does not discriminate on the basis of race, color, sex, religion, national origin, age, disability, veteran status, sexual orientation, gender identity, or any other protected status in educational activities, scholarship programs or admissions.
Privacy Policy
We do not sell or rent information to any outside parties. By providing your information, you will receive postal and electronic communications from the Southwestern Institute for International and Comparative Law (SWIICL) of The Center for American and International Law (CAIL) in accordance with CAIL's Privacy Policy. If we co-sponsor a program with another organization, information may be shared between the parties. All such co-sponsors will be identified on the event details and registration page. At any point, you can opt-out or unsubscribe by selecting either link at the bottom of each email or call us at 972.244.3400.