Young lawyers from 25 countries will travel to Plano, Texas in late May to learn about the U.S. justice system and explore current international trade and business topics. The five-week program, called The Academy of American and International Law (known as "The Academy"), is an annual event presented by The Center for American and International Law (CAIL).
More than 50 lawyers will attend The Academy from Europe, South America, Africa, Asia, North America and the Middle East. They will meet prominent U.S. attorneys, judges and law school professors during their stay from May 26 to June 28, 2019. In addition to exploring current legal issues, they will learn about American culture and visit popular venues in North Texas including the Stockyards in Fort Worth.
"Academy participants are young leaders in their communities. The Academy helps them develop skills and new perspectives. We hope it will make them better able to make a difference in their home countries and in the world," said Mark Smith, Interim President of The Center for American and International Law and Dean of The Academy.
The curriculum covers a wide range of subjects, including an introduction to the American legal process, international business litigation in U.S. courts, legal ethics, international trade, and arbitration to solve disputes in business transactions. Professors from some of the top U.S. law schools and prominent attorneys from law firms and corporations will present at this year's program.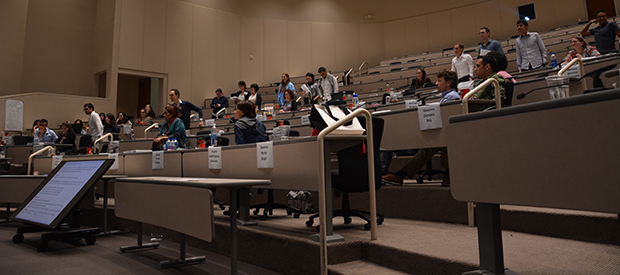 A highlight of the program is a two-day Symposium on Global Markets—Nationalism and Protectionism: The United States in the International Arena.
Since 1964, The Academy has attracted more than 3,000 participants from 121 countries and has offered participants the opportunity to forge valuable international relationships that can last a lifetime.
"I really believe that the opportunity to share knowledge with people from all over the world is the way to build a better world of peace," said Belen Rivera, a senior associate at a law firm in Quito, Ecuador who attended The Academy in 2018.
Academy participants have gone on to such prominent positions as Prime Minister of Peru, President of the U.N. General Assembly, Chief Justice of the Philippines and Chief Justice of Italy's Court of Cassation, the country's highest court.