This week, more than 50 young lawyers from 24 countries attending the Academy of American and International Law learned some of the intricacies of international trade and current legal issues at a two-day Symposium on International Law and Global Markets. This year's focus was Nationalism and Protectionism: The United States in the International Arena, and the symposium featured a variety of distinguished speakers from major corporations and law schools.
Topics included international trade agreements, protection of trade secrets and cybersecurity, the North American Free Trade Agreement, and the impact of U.S. tariffs on international commerce.
Tim Meyer, a law professor at Vanderbilt University Law School, spoke about the impact of U.S. tariffs on international businesses. He said the wide range of tariffs imposed by the U.S. administration on different countries, and the uncertainty of additional tariffs, is creating a challenge for companies that import products and the businesses that support international commerce.
Meyer said his goal was to inform the Academy participants of the statutes that allow the U.S. to impose tariffs, and how those laws relate to international organizations, such as the World Trade Organization. That way, he said, they can advise their clients on how to plan their strategies moving forward. Meyer, by the way, is one of several lawyers who are challenging the constitutionality of a statute that the Trump Administration is using to justify imposition of the tariffs.
What role should international corporations play to improve the lives of their customers, employees and their communities? According to Deborah Majoras, Chief Legal Officer of Proctor & Gamble, corporations should play a major role – not only for altruistic reasons, but also for the bottom line since today, consumers are very interested in company priorities and whether brands demonstrate social responsibility. She also pointed out that employees expect their companies to have a greater purpose.
Majoras showed several commercials produced by her company aimed at stimulating conversations about gender equality, compassion and civility. She said she hoped to inspire the young lawyers in the Academy to use their influence within their companies and law firms to effect positive change in their communities.
Another highlight of the Symposium was a panel presentation by several of the young lawyers on the impact of current trade practices in the United States and Europe on business in their countries.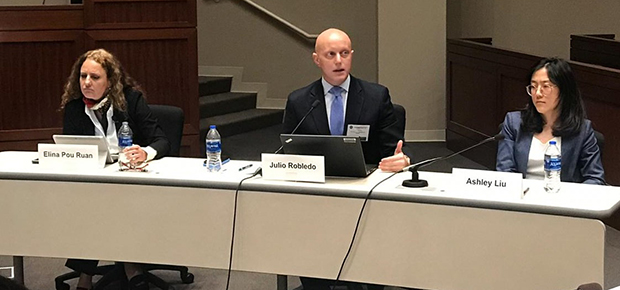 One of the panelists, Julio Robledo from Spain, included a picture in his presentation of a heart filled with the flags of nations around the world. He spoke about building bridges of understanding with people from other nations. In fact, that's what the Academy is all about.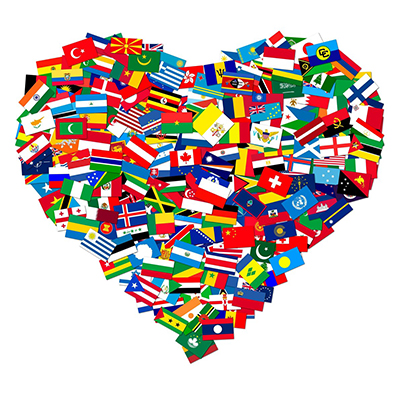 --Ellen Beth Levitt