The Southwestern Institute for International and International Law (SWIICL), a division of The Center for American and International Law (CAIL), celebrated the successful completion of the 58th Academy of American and International Law during a graduation ceremony on June 30.
The intensive five-week program at CAIL's education center in Plano, Texas, provided a diverse group of forty participants from twenty-four nations a substantive introduction to the U.S. legal system, international business transactions, and the rule of law. Representatives from global corporations and international law firms, including Baker McKenzie, Procter & Gamble, and Colgate-Palmolive, were among the attendees.
Three of the participants, Suzan Akello (Ministry of Justice & Constitutional Affairs, Uganda), Sunday Lugard (University of Jos, Nigeria), and Edson Sy (Kua Sy & Yeung Law Offices, Philippines) had the opportunity to attend the Academy as full or partial recipients of the Vester Hughes Scholarship Fund, which further demonstrates CAIL's commitment to making legal professional development accessible worldwide.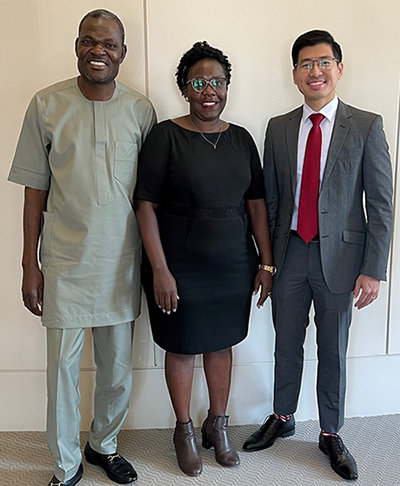 The Academy elected Andrei Aggens (Procter & Gamble, Brazil) as the Secretary-General and Chihiro Ishikawa (Mitsubishi Chemical Group, Japan) as the Deputy Secretary General. The class also elected Lies Verstreken (IUSTICA.BE, Belgium) as their Class Speaker
During their time at the Academy, the attendees transformed from strangers to the closest of friends. As Ms. Verstreken highlighted in the class farewell speech, "We talked, we hugged, we laughed. We got to know each other and made connections. We built friendships that will stay with us for many years to come. These are all memories that we will take home and cherish forever.

Reflecting on the program, SWIICL Director Jay Ray shared, "The Academy also fills me with hope for our world by showing me how many great and wonderful individuals there are in it, even when disputes exist between our countries. There is a common thread of decency and caring if we just spend enough time together."
Participants of the 58th Academy are taking home with them a deep understanding of the American judicial system and the rule of law and the enduring spirit of camaraderie and unity they experienced during the program. This unique blend of knowledge, experiences, and connections is poised to significantly impact their future professional endeavors and their contributions toward fostering a more empathetic and connected world.
MEDIA CONTACT: Karla Lárraga
(972) 244-3436 | klarraga@cailaw.org
__________
About the Southwestern Institute for International and Comparative Law - The Southwestern Institute for International and Comparative Law (SWIICL) was founded in Dallas, Texas, in 1963 as a division of The Center for American and International Law, an international nonprofit educational institution for lawyers, judges, and law enforcement professionals. Since 1963, SWIICL has offered annual programs focusing on international business transactions and private investments worldwide while developing professional relationships among distinguished lawyers, business leaders, and government officials worldwide. SWIICL's premier annual event is the Academy of American and International Law. This multi-week program has provided more than 3,300 participants from 130 countries the opportunity to study American law and processes in the United States.