On November 27 at the Houston offices of Weatherford International, Oilfield Services Committee chair Billy Jacobson hosted a breakfast meeting of the committee. The meeting included a presentation on section 1502 of the Dodd-Frank Act, which requires companies to determine whether their 3TG metals are conflict free, with first filings due in May 2014 for the year 2013. Presented by Kevin Lewis of PwC and Natalia Shehadeh of Weatherford, the discussion centered around the compliance aspects of the new SEC rules, and covered both potential risks (minerals availability, cost increase, customer loss) and potential opportunities (improved collaboration with suppliers and NGOs, potential new markets, increased supply through transparency) for companies arising from the implementation of the rules.
Conflict minerals were followed by a discussion on the SEC rules derived from section 1504 of the Act which deals with transparency, led by Marsha Gerber of Fulbright & Jaworski and Jay Martin of Baker Hughes. While Rule 13q-1 on the disclosure of payments by resource extraction issuers is different from the conflict minerals rules in that it is not intended to prevent any behavior, it may in many ways be more troubling for companies in the oilfield services sector. The rule applies to any issuer which engages in commercial development of oil, natural gas or minerals, with no overt exception for service companies. Each company will have to examine its own operations to see whether any of its activities could give rise to a reporting requirement, and will be required to report all payments above a de minimis limit (now set at $100,000) to the U.S. government or to any level of a foreign government.

Slide decks from the two presentations are available here.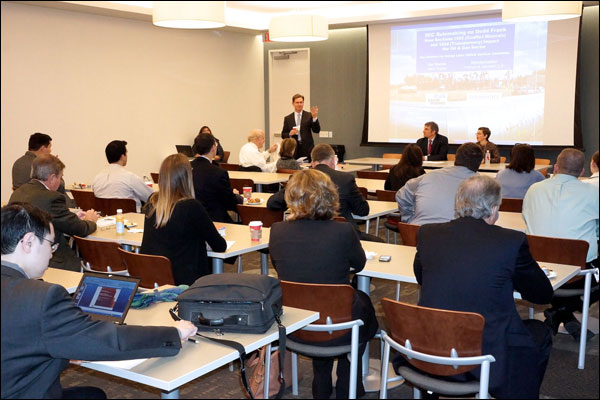 Billy Jacobson welcomes committee members.