The IEL's first Midstream Oil and Gas Law Conference took place on Friday, December 7th at Houston's Post Oak Hilton Hotel. Chaired by Donna Bailey (Chevron), Mark Haskell (Morgan Lewis & Bockius) and Mike Pearson (Jackson Walker), the conference's 125 delegates first heard from Steven Reed (Steptoe & Johnson) with a summary of the historical approach to pipeline regulation. The regulatory theme was continued by Glenn Benson (Perkins Coie) and Chris Barr (Post & Schell) discussing allocation issues relating to new capacity construction, and by Charles Caldwell (Vinson & Elkins) on rate treatment for new capacity.
Later in the morning Elizabeth McGinley and Michael Piazza of Bracewell & Giuliani reviewed private equity investment in midstream companies and related tax issues.
The afternoon began with Ben Rhem (Jackson Wlaker) focusing on environmental and clean air regulations, before Kathy Lake (Vinson & Elkins) discussed service quality issues, including prorationing, new services in existing capacity and termination of existing services. Jana Grauberger (Liskow & Lewis) compared and contrasted the regulatory regime for pipelines offshore with the Interstate Commerce Act regime onshore, and the day concluded with Steven Adducci and Dick Powers of Venable reviewing recent developments in the area of terminals and storage services, as well as reviewing the regulation of exchange and backhaul agreements.
Preliminary feedback from the conference delegates was very positive, welcoming the IEL's inclusion of midstream in its programming. One delegate remarked on the evaluation form, "Finally – something on point to what I do." Another remarked "Overall – very happy I signed up for this day. Amazing value and best conference I have attended in a long while."
The IEL's Executive Committee will be discussing the possibility of forming a specialist practice committee for members working in the midstream sector, and the Programs Committee will be considering whether the Midstream Oil and Gas Conference should become an annual event.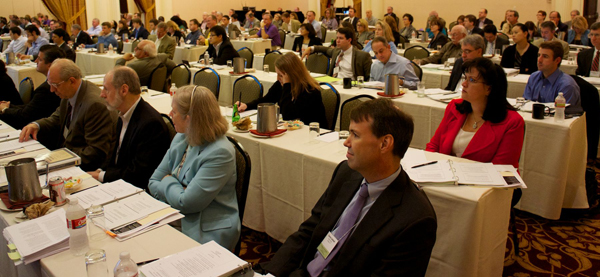 Delegates at the Midstream Conference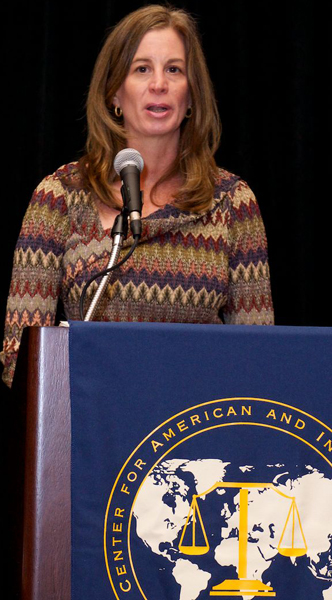 Jana Grauberger of Liskow & Lewis presents on OCS capacity issues.