At a meeting of the Board of Editors of the Oil & Gas Reporter on February 20th, administrative editor Bruce Kramer announced the appointment of three new editors, with effect from February 1, 2013: Chris Kulander, Texas Tech University School of Law, Keith Hall, Louisiana State University Law Center, and Monika Ehrman, who will be joining the faculty of the University of Oklahoma College of Law. Jean Feriancek of Holland & Hart, Denver, has retired from the board.

Two members of the board were recognized at the same meeting for their long service: Professor William Jeffery of the University of the Pacific McGeorge School of Law for five years of service, and Professor Ernest Smith of the University of Texas School of Law for 30 years of service. Professor David Pierce of Washburn University School of Law, prevented by blizzards in Kansas from being present at the meeting, also celebrated 20 years on the board.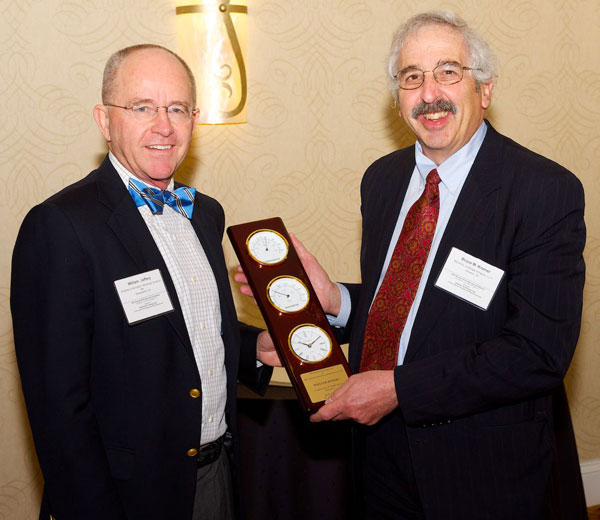 Bill Jeffery (left) receives his award from administrative editor Bruce Kramer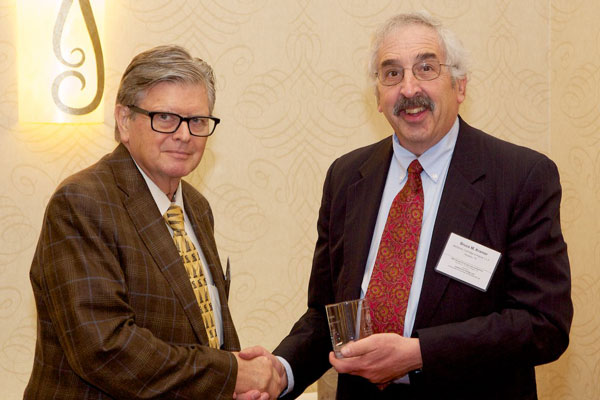 Ernest Smith (left) receives his award from Bruce Kramer
In his comments to the board, Professor Kramer highlighted that after a long spell which appeared to signal the decline of the US domestic oil and gas industry and as a consequence interesting legal cases arising from it, the board was now deluged with new cases from states across the country – Pennsylvania, Ohio, North Dakota, Wyoming, to name but a few – and all of this had given the Reporter a new lease of life. Even in today's age of instant online legal reporting, there was still a demand for quality reporting coupled with expert commentary of the kind delivered by the Reporter, and the new board members would help to ensure that subscribers to the publication continued to receive best quality legal insight.

Oil & Gas Reporter Board of Editors. From left: David Winn (IEL Co-Director), Pat Martin (LSU Law Center), Bruce Kramer (Administrative Editor), William Jeffery (University of the Pacific McGeorge School of Law), Ernest Smith (University of Texas School of Law), Jeff Slutzky (LexisNexis), Mark Christiansen (Crowe & Dunlevy), Stevia Walther (Rocky Mountain Mineral Law Foundation), Mike Marchand (President, CAIL), Sheila Hollis (Duane Morris LLP), Owen Anderson (University of Oklahoma College of Law), Phillip Norvell (University of Arkansas School of Law), Keith Hall (LSU Law Center), John Lowe (SMU Dedman School of Law), Alan Dunlop (IEL Co-Director)