The IEL will be presenting its 4th Oilfield Services Law Conference in Houston's JW Marriott Hotel on Thursday, October 9th. This year's conference co-chairs are Michael Bennett of Baker Botts and Kevin Blodgett of Rockwater Energy Solutions, and they have recruited an outstanding faculty to discuss matters of interest to in-house and private practice counsel working in the oilfield services space.

Highlights will include a review of transactional trends in oilfield services, avoiding liability under the Fair Labor Standards Act, a discussion of important contract issues, another look at hydraulic fracing regulation, dealing with sanctions, and the problems of e-discovery. Mark Stubbe, Senior Vice President at Cheniere Energy in Houston, will give a lunchtime talk on LNG export. You can find more details and register at cailaw.org/iel.

The IEL's Oilfield Services Practice Committee, led by Alex Cestero and Michael Bennett, has a growing membership of lawyers practicing in this field. As well as being closely involved with the annual conference, the committee organizes short CLE sessions (usually over breakfast) a few times a year, and is an ideal group for oilfield services lawyers to network with their peers. Please contact Alex or Mike for more details, or Alan Dunlop at the IEL.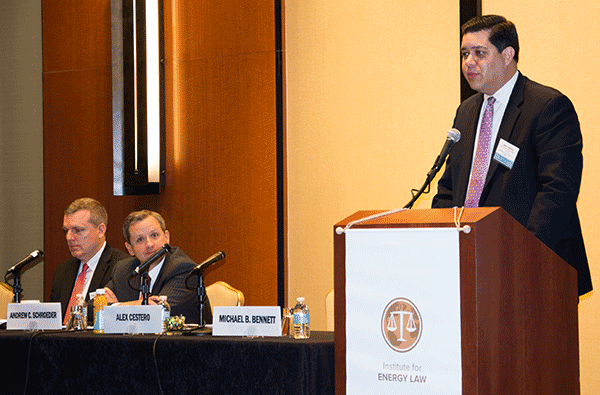 IEL Oilfield Services Practice Chair, Alex Cestero, at the 2013 Oilfield Services Conference