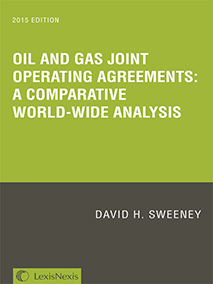 The Institute for Energy Law (IEL) is pleased to announce the publication of
Oil & Gas Joint Operating Agreements: A Comparative Worldwide Analysis
, written by IEL member
David Sweeney
, on behalf of the Institute.
This 17 chapter e-publication provides in-depth analysis of worldwide joint operating agreements (JOAs), unit operating agreements, and similar agreements based on commonly-used forms in different jurisdictions, common modifications to those forms and rationales for those changes, and cases and secondary source material interpreting joint operating agreements. Joint operating agreements are one of the most common, and important, types of upstream oil and gas agreements.
Though JOAs worldwide deal with similar issues, the ways in which these issues are handled can differ depending on the jurisdiction and type of form. By dealing with JOAs on a global scale, this publication will facilitate an understanding of these agreements generally, the terms of any particular JOA, how and why parties from other jurisdictions may view a project differently, and creative cross-cultural solutions for common JOA-related issues.
The JOA treatise features:
Comprehensive coverage of the issues which have broad geographic appeal.
Comparative analysis of different types of joint operating agreements and explanations of how the oil and gas industry functions in other jurisdictions.
An examination of how counterparties may view certain clauses along with creative ways to deal with problems that arise during the negotiation of a JOA and the administration of an executed agreement.
High-level discussions that permit readers new to this type of agreement to develop a solid understanding of what a joint operating is and does.
Citations to common forms, cases, and secondary source material that serve as a reference guide for further study.
For more information and to purchase, visit http://www.lexisnexis.com/JOA