The 2018 winner of the IEL Hartrick Scholar Writing Competition is Abby Fox.  Abby is a second year student at The University of Alabama School of Law.  Abby is in the top 5% of her class and is a junior editor on the Alabama Law Review.
Abby's paper was entitled Policy Approaches to Deploying Energy Storage: Lessons from California and South Australia.  Abby's winning paper will be published in the Institute for Energy Law's Proceedings of the 69th Annual Institute on Oil & Gas Law published by LexisNexis. 
Abby received $2,500 and attended the IEL's 69th Annual Oil & Gas Law Conference on February 15-16, 2018, with expenses paid by IEL.
Other finalists for the prize included:
Jacqueline Llinas, University of Denver Sturm College of Law, for the paper Electric Resource Planning in Colorado: Scenario Planning for Changing Dynamics in the Electricity Sector.
Brent Marshall, Florida State University College of Law, for the paper From Land or From Air: Why a Unified Energy Resource Scheme is Necessary When the Answer is Both.
Brittany Ryan, University of Colorado Law School, for the paper Municipal-Owned Microgrids in Colorado: An Alternative to Forming a Municipal Electric Utility.
Danny Wicoff, University of Houston Law Center, for the paper Where Does the Wind Blow?: Challenges to Offshore Wind Development in the United States.
Chelsea Wilson, Penn State Law, for the paper Victorian Ban on Fracking.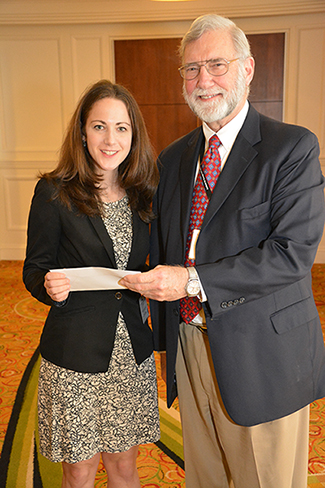 Photo Caption: Abby Fox received her $2500 prize for winning the Hartrick Scholar Writing prize on February 15 at the 69th Annual Oil & Gas Law Conference from IEL's 2016-2018 Chair, Lawrence P. Simon, Jr. (Liskow & Lewis).