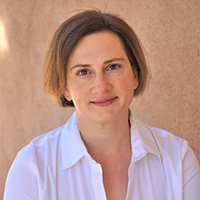 The 2022 winner of the Institute for Energy Law's Hartrick Scholar Writing Competition is Molly Samsell. Molly is a second-year student at the University of New Mexico School of Law. Prior to attending law school, Molly ran a non-profit makerspace. She holds an M.F.A in Studio Art and B.A.s in Astrophysics and Photography.
Her winning paper is entitled Oil's Well That Ends Well—An Application for a New Mexico-Texas Transboundary Well and Its Implications. The paper will be published in the Institute for Energy Law's Proceedings of the 73rd Annual Institute on Energy Law and the New Mexico Law Review.
Molly received a $2,500 prize for winning the competition.
Other finalists this year included:
Virginia Porter Allen of the University of Miami School of Law with the paper The Liability Regime and Tax Incentives of Carbon Sequestration in Comparison to Enhanced Oil Recovery
Claire Brown of Georgetown University Law Center with the paper Regulating the "Low-Level" Offenders in the Methane Emissions Battle
Travis Murphy of the University of Denver Sturm College of Law with the paper The Limits of the Minimum Offer Price Rule After F.E.R.C. v. Electrical Power Supply Association
To Nhu of the University of Houston Law Center with the paper Yes! In My Backyard: Community Participatory Strategies to Boost Acceptance of Wind Energy