The Center for American and International Law's ("CAIL") Institute for Energy Law ("IEL") honored Kimberly Phillips, General Counsel, Global Litigation at Shell USA, Inc, as the first recipient of its inaugural Excellence in Diversity, Equity, and Inclusion Award. The award presentation and following panel discussion on diversity, equity, and inclusion issues in the energy sector were held at the Buffalo Soldiers National Museum in Houston on Thursday, September 22.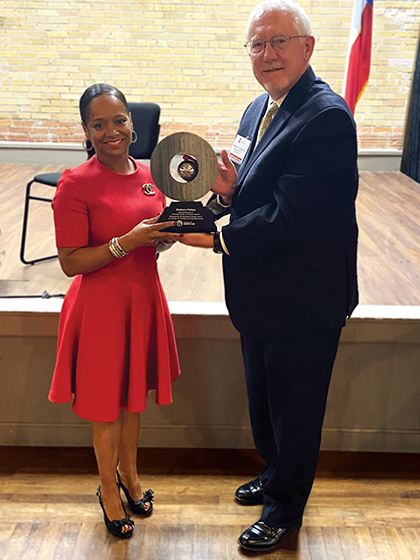 Left to Right: Kimberly Phillips (left) and IEL Chair Michael P. Lennon, Jr. (right) with IEL's 2022 Excellence in Diversity, Equity, and Inclusion Award trophy.
The Excellence in Diversity, Equity, and Inclusion Award was established in 2022 by IEL's executive committee to recognize individuals in the energy sector who have: a demonstrated record of valiantly championing diversity, equity, and inclusion in the legal profession; who have worked to combat unconscious bias; and who have shown leadership in creating pathways and opportunities for the promotion of diverse talent.
About Kimberly Phillips - Kimberly Phillips is a seasoned legal professional with experience in both the private law firm and corporate legal environments. As General Counsel at Shell USA, Phillips leads a team of 90 lawyers and legal professionals sitting in 9 countries who are responsible for managing Shell's disputes across the globe. She sits on the Global Legal Leadership Team and formerly supported a Shell subsidiary business as a Board Director.
Before joining Shell, Phillips was an associate and later a partner in a private law firm's Dallas and Houston offices. She handled trial and appellate matters in state and federal courts, garnering numerous published appellate decisions. She is Board Certified in Civil Appellate Law by the Texas Board of Legal Specialization. She was voted Best Associate General Counsel in a Large Company by the Houston Business Journal and received the Best Corporate Counsel Award by the National Bar Association, Women Lawyer's Division. She recently received the Premier Women in Law Award from the Association of Women Attorneys Foundation. Phillips has served in statewide and local leadership roles such as the Texas Board of Professional Geoscientists, Houston Police Officers' Civil Service Commission, and the Texas Lyceum Association. She has also served in leadership roles for legal and community-based organizations, including the Texas Supreme Court Rules Advisory Committee and the Executive Committee of the Institute for Energy Law, including having served as Chair of IEL's Diversity, Equity, and Inclusion Committee. She sits on the Board and serves on the Audit Committee for the US Chamber of Commerce's Institute for Legal Reform. Phillips is an alumna of Thurgood Marshall School of Law at Texas Southern University.
----------
About the Institute for Energy Law - The Institute for Energy Law (IEL) was founded in Dallas in 1959 as a division of The Center for American and International Law, an international nonprofit educational institution for lawyers, judges, and law enforcement professionals. IEL provides lawyers and other professionals in the energy industry with exceptional academic and professional opportunities, including annual conferences, courses, seminars, scholarly publications, and membership activities. As one of the energy industry's premier membership organizations, IEL counts many leading global energy companies and attorneys among its international members. Learn more about IEL by visiting cailaw.org/IEL.