The Institute for Energy Law (IEL) is pleased to announce the 6th Leadership Class. Forty accomplished professionals were selected to take part in the 2023-2024 class. The class consists of attorneys from eight states and Washington, D.C. Their experience in the field ranges from three to thirteen years. Several class members work in oil and gas litigation and transactions. Others have experience in tax, CCUS, hydrogen, nuclear, solar, wind, ESG, regulatory, and more.
The 2023-24 class dedicates time to their communities, their pro bono work, and volunteerism in diversity, financial literacy, mentorship, and more. The class includes veterans, home chefs, first-generation Americans, avid hikers, former collegiate athletes, cyclists, and a Tuvan throat singer.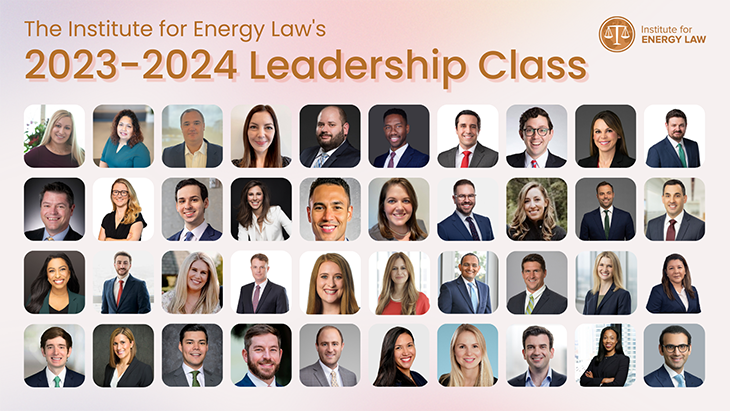 Sessions for the class will begin in August, and the class retreat will take place in September. The class will continue through spring 2024 with webinars, networking events, and other programming geared toward developing young energy professionals.
The 2023-24 IEL Leadership Class consists of the following individuals:
Jamie Allen, Modrall Sperling
Amadita S. Arredondo, Infinity Water Solutions
Ryan Boutet, Shell USA, Inc.
Catherine Bratic, Hogan Lovells
Jonathan Cohen, Red Stone Resources, LLC
Donald L. Collier, Oliva Gibbs LLP
Shawn J. Daray, Jones Walker LLP
Carter Dickson, Jackson Walker LLP
Mahalia Burford Doughty, Sidley Austin LLP
Brandon Duke, Winston & Strawn LLP
Chris Dunbar, ConocoPhillips Company
Hayes Finley, Womble Bond Dickinson (U.S.) LLP
Ryan Frankel, McGuireWoods LLP
Siobhan Galbraith, SLB
Manny Geraldo, Washington Gas
Megan E. Griffith, Susman Godfrey LLP
Ryan Haddad, Reed Smith LLP
Karen J. Herzog, Sitio Royalties
Rick Houghton, Smyser Kaplan & Veselka LLP
Blake C. Jones, Steptoe & Johnson PLLC
Rebecca E. Kennedy, Dentons US LLP
Aaron E. Koenck, Hall Maines Lugrin, P.C.
Kayli Gillespie, Elias, Books, Brown & Nelson
Ryan P. McAlister, Ottinger Hebert, L.L.C.
Laura Shoemaker McGonagill, Baker Botts L.L.P.
Najwan Nayef, McGuireWoods LLP
Nirav N. Patel, Kelly Hart & Hallman LLP
Ryan Pittman, BakerHostetler
Katherine Raunikar, Jordan, Lynch & Cancienne PLLC
Denice Redd-Robinette, Liskow & Lewis, APLC
Justin Rowinsky, Yetter Coleman LLP
Skylar Rudin, Shell USA, Inc.
Daniel Salomón Sotomayor, Norton Rose Fulbright US LLP
Brett R. Sheneman, Exxon Mobil Corporation
Cristian Soler, Liskow & Lewis, APLC
Lindsey F. Swiger, Norton Rose Fulbright US LLP
Irina Tsveklova, Pillsbury Winthrop Shaw Pittman LLP
Mike Vitris, Beveridge & Diamond, P.C.
Sydney Weathersby, NiSource Corporate Services Company
Humzah Q. Yazdani, Weil, Gotshal & Manges LLP