With over 300 in attendance, the Workshop co-chairs Dietmar Prager (Debevoise & Plimpton, New York), Ann Ryan Robertson (Locke Lord, Houston) and Audley Sheppard (Clifford Chance, London) brought together an exceptional faculty to celebrate the 25th Anniversary ITA Workshop - International Arbitration from the Arbitrator's Perspective.
The Workshop began on Wednesday afternoon, June 19, with the 8th Dallas Roundtable organized by our Young Arbitrators Initiative Committee, followed by the Workshop Welcome Reception and ITA's special 25th Anniversary Party at Sambuca 360, a nightclub in a lively entertainment district. This celebration offered an informal networking opportunity for participants.
On Thursday, June 20, the Workshop included: a Mock on the arbitrators' powers to control conduct of counsel; a reflection on ITA's first 25 years; panels on the theory and reality of arbitrators, arbitrator transparency, public policy, advocacy from the arbitrators' perspective and the psychological reality of arbitral decision-making and advice from prominent international corporate general counsel on what arbitrators should do better. The Workshop's featured luncheon speaker was Bernard Hanotiau (Hanotiau & van den Berg, Brussels), who addressed "25 Years of International Arbitration: The Past and The Future."
After the Workshop, ITA Advisory Board members gathered at the Dallas Country Club for the Annual Advisory Board Dinner and to recognize The Hon. Charles N. Brower with the Pat Murphy Award. Created in 2008 in honor of ITA's founder and first Advisory Board Chair, Ewell E. "Pat" Murphy , Jr., the Pat Murphy Award is ITA's highest honor. It is awarded in recognition of outstanding service and achievement in international arbitration. Judge Brower is the first person to receive the award other than Mr. Murphy himself.
On Friday, June 21, the Friday Forum "think tank" took place. The Forum is a special event for members of the Advisory Board, Workshop faculty, Academic Council, Board of Reporters, WAMR Board of Editors and special guests, providing us the opportunity to share our considerable experience in transnational arbitration in an off-the-record discussion of cutting-edge issues. The agenda for this open discussion is determined by the participants and proved to be a lively and worth-while dialogue.
At the conclusion of the Workshop and related events, participants took a bus trip to nearby Fort Worth on Friday afternoon/evening. This trip included shopping, museums, dancing and drinking. What a great way to end such a successful conference.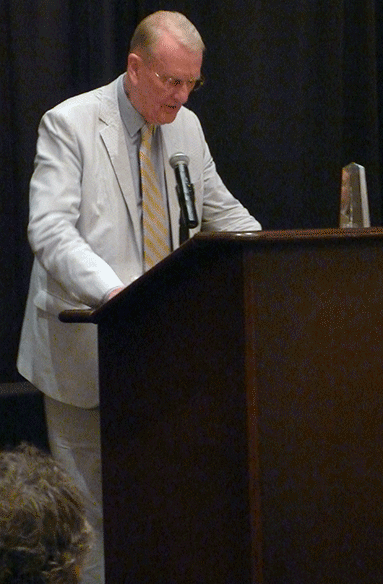 Charles Brower accepts the Pat Murphy Award

Pictured: Anton Maurer, George Bermann and David Caron