We are pleased to release the latest in a series of recorded interviews with key figures under the ITA Academic Council's ongoing Oral History Project. The series is designed to record the evolution of modern international arbitration in the words of those who have led it. All videos are available to view at no charge.
The most recent interview took place during the 28th Annual ITA Workshop: When Justice Delayed Would Be Justice Denied: Emergency Arbitrators and Interim Measures in International Arbitration between Albert Jan van den Berg and Meg Kinnear.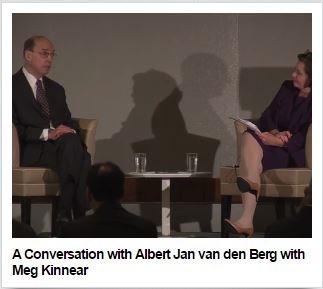 Other speakers in the series are:
Bernardo Sepúlveda Amor
J. Martin Hunter
L. Yves Fortier
Charles N. Brower
Gary Born
Gerald Aksen
A full biography for each speaker is available here.
We encourage you to explore ITA's new Online Education Library for more video resources.

Professor Albert Jan van den Berg is a partner in Hanotiau & van den Berg (Brussels, Belgium). He is President of the International Council for Commercial Arbitration (ICCA; 2014–2016), and General Editor of the Yearbook: Commercial Arbitration and ICCA Congress Series. He is a former President of the Netherlands Arbitration Institute (NAI) and Vice President of the London Court of International Arbitration (LCIA). He is a Visiting Professor at Georgetown University Law Center, Washington DC, and Tsinghua University, Beijing, and Emeritus Professor at Erasmus University, Rotterdam. Professor van den Berg is presiding and party-appointed arbitrator in numerous international commercial and investment arbitrations. He also acts as counsel in international commercial arbitrations. Professor van den Berg has published extensively on international arbitration (see
www.hvdb.com
), in particular the New York Convention of 1958 (see
www.newyorkconvention.org
). His awards include: The International Who's Who of Business Lawyers, Arbitration: Lawyer of the Year in 2006 and 2011, and Global Arbitration Review, "Best Prepared and Most Responsive Arbitrator" in 2013.

Meg Kinnear is currently the Secretary-General of the International Centre for Settlement of Investment Disputes (ICSID) at the World Bank. She was formerly the Senior General Counsel and Director General of the Trade Law Bureau of Canada, where she was responsible for the conduct of all international investment and trade litigation involving Canada, and participated in the negotiation of bilateral investment agreements. In November 2002, Ms. Kinnear was also named Chair of the Negotiating Group on Dispute Settlement for the Free Trade of the Americas Agreement. From October 1996 to April 1999, Ms. Kinnear was Executive Assistant to the Deputy Minister of Justice of Canada. Prior to this, Ms. Kinnear was Counsel at the Civil Litigation Section of the Canadian Department of Justice (from June 1984 to October 1996). Ms. Kinnear has published numerous articles on international investment law and procedure and is a frequent speaker on these topics.