The Center for American and International Law (CAIL) announces the retirement of senior vice president and Institute for Transnational Arbitration (ITA) director David Winn, effective Friday, June 30.
Winn became the ITA's third director when he joined CAIL in 1999 following a distinguished career as a trial lawyer in Dallas with a keen interest in international affairs. His leadership spanned continents, collaborating with counterparts in Mexico, the Soviet Union, Europe, China, and the Middle East. A graduate of Southern Methodist University and the University of Texas School of Law, Winn brought his considerable legal acumen to CAIL, shaping ITA into a globally recognized institution focused on advancing the field of transnational arbitration.
In addition to his accomplishments with ITA, Winn's influential presence at CAIL extended to other areas, serving as the founding director of CAIL's Institute for Law and Technology (2000-2008) and the director of CAIL's Institute for Energy Law (1999-2016).
"David's unwavering commitment and strategic approach to transnational arbitration have profoundly influenced ITA's growth and standing in the field," said Thomas (T.L.) Cubbage, CAIL's president. "His legacy will continue to resonate within our organization. Although his presence will be deeply missed, we celebrate his illustrious career and wish him a well-deserved, fulfilling retirement."
Following Winn's retirement, the ITA will undergo a leadership transition, with Cubbage taking on a secondary role as the new director of ITA and CAIL newcomer Dr. Darya Shirokova assuming the role of assistant director.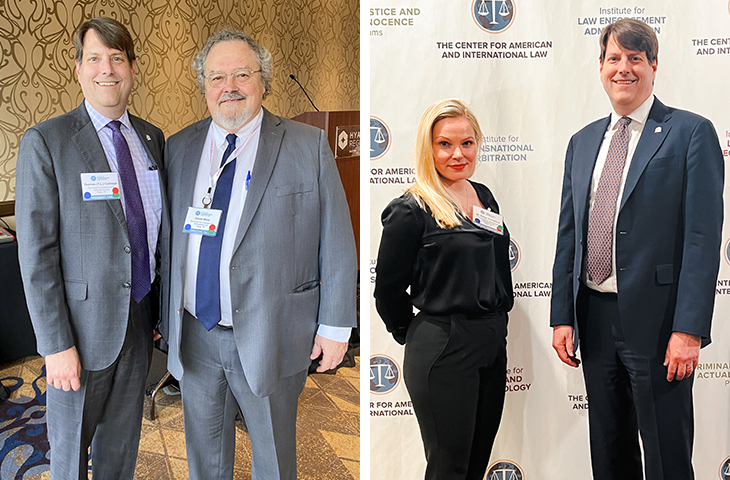 Cubbage brings extensive legal and leadership experience to the role. Before his presidency at CAIL, he was a partner in the Washington, D.C., office of Covington & Burling LLP, specializing in litigation and arbitration. Cubbage also held positions as a deputy undersecretary at the U.S. Department of Energy and as an in-house counsel with a global energy company. A long-time member of CAIL's Board of Trustees and of ITA's advisory board, Cubbage received his undergraduate degree from Southern Methodist University and a law degree from the University of Texas.
Complementing Cubbage's expertise, Dr. Shirokova brings a rich multicultural perspective to ITA and a deep understanding of civil and common law, underscored by her specialization in international arbitration. Her career trajectory includes a five-year tenure at the ICC International Court of Arbitration in Paris, where she managed hundreds of arbitration cases, followed by pursuing a Ph.D. at Queen Mary University of London. Dr. Shirokova's proficiency in English, French, and Russian, coupled with a working knowledge of Spanish and Arabic, adds to her global perspective, making her a valuable addition to the ITA.
"The ITA is poised for continued growth and impactful work under the new leadership. I am looking forward to partnering with Dr. Shirokova, whose diverse experience and deep understanding of the field will be instrumental to our mission," said Cubbage. "Together, we are committed to keeping ITA at the forefront of transnational arbitration."
MEDIA CONTACT: Karla Lárraga, Communications Officer
Email: klarraga@cailaw.org
Phone: 972-244-3436
__________

About The Center for American and International Law - Founded in 1947, The Center for American and International Law (CAIL) is a nonprofit institution based in Plano, Texas, dedicated to advancing justice and promoting the rule of law through the professional development of legal and law enforcement practitioners worldwide. Today, CAIL's educational institutes have established internationally recognized forums and programs addressing law enforcement administration, energy law, international and comparative law, transnational arbitration, law and technology, criminal justice, and other relevant topics. Thousands of lawyers and law enforcement officers from all 50 states and 130 countries have participated in CAIL programs.