Educational Videos on DVD
In addition to the Workshop videos available on demand and on USB in the ITA Online Education collection, several other Workshops have been produced for educational purposes and are available on DVD, complete with study guides and other supporting materials.
Save 30% this month on all programs -- contact Krishonne Johnson at kjohnson@cailaw.org.
Scenes from a Mock International Arbitration with Expert Commentary
This 2 DVD set is designed to demonstrate and explain Investor-State disputes under investment treaties in international arbitration.
Learn More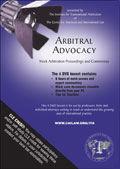 Mock Arbitration Proceedings and Commentary
The Institute for Transnational Arbitration presents this 4 DVD box set, designed to demonstrate and explain the craft of advocacy in international arbitration.
Learn More