The Energy Dispatch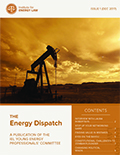 Inside the Latest Issue:
COVID-19 Trends Among Select U.S. Pureplay Refiners
Pipeline Easement Wars: Landowners Strike Back
Energy Law Then & Now: A Multigenerational Discussion – Part IV
U.S. Round Up
Young Energy Professional Highlight – Tod Everage, Partner, Kean Miller LLP
The National YEP Day of Service: a Conversation with YEP Leadership
The Energy Dispatch, the IEL's Young Energy Professional newsletter, contains substantive articles on trending legal issues in the energy industry. The publication is managed by the YEP Newsletter Subcommittee, with the editorial responsibilities rotating to a different member each issue.
Managing Editor
Associate Editors
Chelsea Heinz
Adam Morgan
Laura Olive
Erin Potter Sullenger
Committee Members
Eric Camp
Joseph Castelli
Jude Dworaczyk
Tod Everage
Anna Gryska
Miles Indest
Lucas Liben
Kelly Ransom
Brittany Salup
To submit an article for the next issue, contact Vickie Adams at vadams@cailaw.org.
The Energy Dispatch Archive