The Energy Dispatch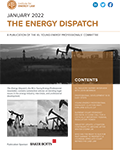 Inside the Latest Issue:
IEL Industry Expert Interview with Bob Broxson, Secretariat Advisors, LLC
Young Energy Professional Highlight – Caleb Madere, Shareholder, Liskow & Lewis
Accounting Procedures for the Joint Account
Bachtell Enterprises, LLC v. Ankor E&P Holdings Corporation: Impeding Application of the Exculpatory Clause to Accounting-Related Breaches
PHMSA Proposes Revising Pipeline Safety Regulations
Navigating Career Success: Building Your Personal Board of Directors to Uncover Blind Spots
The Energy Dispatch, the IEL's Young Energy Professional newsletter, contains substantive articles on trending legal issues in the energy industry. The publication is managed by the YEP Newsletter Subcommittee.
Chair
Vice Chairs
Katherine Raunikar
Ryan Pittman
Committee Members
Travis Cox
Michael H. Ishee
Garrett Martin
Laura Olive
Cristian Soler
Chauntelle Wood
To submit an article for the next issue, contact Vickie Adams at vadams@cailaw.org.
The Energy Dispatch Archive
2023


2022

2021


2020

2019

2018
2017