The Energy Dispatch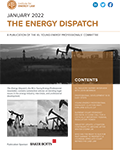 Inside the Latest Issue:
IEL Industry Expert Interview with Sharon O. Flanery
YEP Public Service Project
Young Energy Professional Highlight: Stefanie Burt
Force Majeure and The Great Supply Chain Disruption
Africa's Energy Transition: An Opportunity to Implement Efficient Local Content Policies?
Choice of Arbitration Clause in Energy Contracts: ICC vs ICSID
The Energy Dispatch, the IEL's Young Energy Professional newsletter, contains substantive articles on trending legal issues in the energy industry. The publication is managed by the YEP Newsletter Subcommittee, with the editorial responsibilities rotating to a different member each issue.
Chair
Vice Chair
Committee Members
Chinonso T. Anozie
Laura Brown
John Byrom
Andrew Elkhoury
Marshall Harkins
Chelsea Heinz
Adam Kowis
Luís Miranda
Nneka Obiokoye
Bill O'Brien
Darya Shirokova
Carl Stenberg
Samantha Thompson
To submit an article for the next issue, contact Vickie Adams at vadams@cailaw.org.
The Energy Dispatch Archive
2022

2021


2020

2019

2018
2017