The Energy Dispatch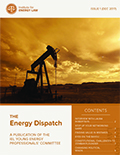 Inside the Latest Issue:
IEL Industry Expert Interview with Monique Watson
Courtesy is Key: The Importance of Manners When Hosting Virtually
YEP Highlight: Gabrielle "Gabby" Figueroa, Barclay Damon
In BPX Operating, the Texas Supreme Court Ruled that Cashing Royalty Checks Did Not Ratify a Unit, but the Court was Unable to Address Commingling Issues
Ecuador: The Obsolescing Bargain
Endeavors Clause in the 2019 AIPN Farmout Agreement: A Note to a Practitioner
The Energy Dispatch, the IEL's Young Energy Professional newsletter, contains substantive articles on trending legal issues in the energy industry. The publication is managed by the YEP Newsletter Subcommittee, with the editorial responsibilities rotating to a different member each issue.
Chair
Vice Chair
Committee Members
Chinonso T. Anozie
Laura Brown
John Byrom
Andrew Elkhoury
Marshall Harkins
Chelsea Heinz
Adam Kowis
Luís Miranda
Nneka Obiokoye
Bill O'Brien
Darya Shirokova
Carl Stenberg
Samantha Thompson
To submit an article for the next issue, contact Vickie Adams at vadams@cailaw.org.
The Energy Dispatch Archive