The Energy Dispatch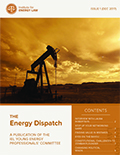 Inside the Latest Issue:
Interview with Kristi McCarthy
You've Got the Vaccine, Now What? Three Things to Consider While Transitioning from Remote to In-Person Work
Young Energy Professional Highlight – Jenn Kaiser, Continental Resources, Inc.
Bluestone: Texas Supreme Court Adds to Law on Postproduction Costs and Analyzes Issue of First Impression on Free Use Clauses
Carbon Capture Updates in a New Era of Growing Concerns Over Climate Change
New Texas Accommodation Doctrine Case Deals with Solar Energy Developer: Lyle v. Midway Solar
The Energy Dispatch, the IEL's Young Energy Professional newsletter, contains substantive articles on trending legal issues in the energy industry. The publication is managed by the YEP Newsletter Subcommittee, with the editorial responsibilities rotating to a different member each issue.
Chair
Vice Chair
Committee Members
Chinonso T. Anozie
Laura Brown
John Byrom
Andrew Elkhoury
Marshall Harkins
Chelsea Heinz
Adam Kowis
Luís Miranda
Nneka Obiokoye
Bill O'Brien
Darya Shirokova
Carl Stenberg
Samantha Thompson
To submit an article for the next issue, contact Vickie Adams at vadams@cailaw.org.
The Energy Dispatch Archive