The Energy Dispatch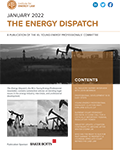 Inside the Latest Issue:
Young Energy Professional Highlight: Jared Nelson
Conference Highlight - Young Energy Professionals Workshop: The Midstream Sessions Co-Chairs Emil Barth and Jennifer L. Johnson
Ohio Supreme Court Decision Provides Further Clarity on the Common Law Distinction Between a Reservation and an Exception
Strict API RP 1173 Adherence Presents Work-Product Protection Concerns
Fifth Circuit Orders Remand to Allow Landowners' Tort Claims to Proceed Against the Louisiana Department of Environmental Quality in State Court
The Energy Dispatch, the IEL's Young Energy Professional newsletter, contains substantive articles on trending legal issues in the energy industry. The publication is managed by the YEP Newsletter Subcommittee, with the editorial responsibilities rotating to a different member each issue.
Chair
Vice Chairs
Katherine Raunikar
Ryan PittmanChris Furey
Committee Members
Travis Cox
Michael H. Ishee
Garrett Martin
Laura Olive
Darya Shirokova
Cristian Soler
Chauntelle Woodn
To submit an article for the next issue, contact Vickie Adams at vadams@cailaw.org.
The Energy Dispatch Archive
2022

2021


2020

2019

2018
2017