Oil & Gas E-Report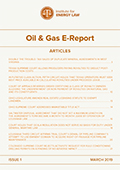 Inside the Latest Issue:
Court Holds President Lacks Authority to Unilaterally "Pause" Federal Oil and Gas Leasing
New IRS Revenue Ruling Provides Opportunities for Financing Carbon Capture Equipment
United States Supreme Court Blocks New Jersey's Sovereign Immunity Challenge to FERC Certificate Holder's Condemnation of State-Owned Land
Northern District of Illinois Dismisses ICFA Claim in Class Action Against Alternative Retail Natural Gas Supplier
Louisiana Supreme Court Overrules Prior Decision and Holds That "Excess Remediation Damages" Generally Are Not Available in Oilfield Contamination Cases
Fifth Circuit Holds Removal was Timely in Louisiana Coastal Land Loss Litigation
Ohio Supreme Court Further Clarifies Exception Under Ohio's Marketable Title Act
Oklahoma Supreme Court Holds Claim for Overriding Royalties was Timely Asserted
The Court of Appeals for the Fifth Circuit Elaborates on the "Look Through" Jurisdictional Analysis for Federal Arbitration Act Petitions and Holds the Phrase "Arising Out Of" Is Broad in the Context of Arbitration Clauses
FERC Must Try Again Regarding Brownsville LNG Terminals and LNG Pipelines
New Legislation Signals Strong Support for CCUS in Texas
The Oil & Gas E-Report is a quarterly newsletter that began in 2018. It contains articles of current interest to oil and gas practitioners and is assembled by a geographically diverse group of editors from private practice, in-house, and academia. This e-publication is the successor to IEL's print publication, the Oil and Gas Reporter, which was published from 1952-2017.
Editorial Board
IEL E-Communications Committee Chair
Eric C. Camp, Decker Jones, PC
Editor-in-Chief
Keith B. Hall, LSU Paul M. Hebert Law Center
Editors
David Ammons, Haynes and Boone, LLP
Ken Bullock, Frost Brown Todd LLC
Marcella Burke, King & Spalding LLP
Reagan L. Butts, Mewbourne Oil Company
Mark Christiansen
Kevin G. Corcoran, Hedrick Kring PLLC
Vanessa Dittman, Shook, Hardy & Bacon L.L.P.
Edward Duhé, Liskow & Lewis
Sharon Flanery, Steptoe & Johnson PLLC
Urs Broderick Furrer, Harriton & Furrrer, LLP
Drew Gann, McGuireWoods LLP
Michael Gray, Shook, Hardy & Bacon L.L.P.
Yvonne E. Hennessey, Barclay Damon LLP
Kara Herrnstein, Bricker & Eckler LLP
John T. Kalmbach, Cook, Yancey, King & Galloway
Kenneth Klemm, Baker, Donelson, Bearman, Caldwell & Berkowitz, PC
Jasper Mason, Baker, Donelson, Bearman, Caldwell & Berkowitz, PC
Daniel McClure, Norton Rose Fulbright US LLP
John Morrison, Crowley Fleck PLLP
Rebeca Mosquera, Akerman LLP
Barclay Nicholson, Norton Rose Fulbright US LLP
Jeffrey Oliver, Baker Botts L.L.P.
Patrick S. Ottinger, Ottinger Hebert, L.L.C.
Diana S. Prulhiere, Steptoe & Johnson PLLC
Niki Roberts, Akin Gump Strauss Hauer & Feld LLP
Gregory D. Russell, Vorys, Sater, Seymour and Pease LLP
C. Brannon Robertson, Fernelius Simon Mace Robertson Perdue PLLC
David E. Sharp, FCIArb, Law Offices of David E. Sharp P.L.L.C.
Chauntelle R. Wood, Liskow & Lewis
Please forward any comments, submissions, or suggestions to any of the IEL's Deputy Director, Vickie Adams at vadams@cailaw.org.