Oil & Gas E-Report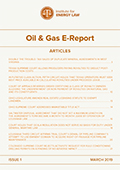 Inside the Latest Issue:
Kansas Appellate Court Rejects Argument by Royalty Owner Class that There Cannot be a Good Faith Sale of Gas Until After Gas is Prepared for Interstate Market
Purchaser of Oil from Operator that had, Unknown to Purchaser, Produced Oil While Trespassing Could Rely on Louisiana's Good Faith Purchaser Defense
A Company's Unasserted, Potential Claim for Reformation of a Mineral Deed, so as to Make the Deed Apply to Additional Tracts of Land, Could Not Defeat the Protection that Louisiana's Public Records Doctrine Provided to Third Person who Purchased Interests in Those Tracts
Ohio Developments
Oklahoma Supreme Court Affirms Trial Court Denial of Temporary Injunction in Surface Damages Act Proceedings; Temporary Injunction is Dissolved; and Case Remanded for Further Proceedings
New Guidance for Pennsylvania Unconventional Natural Gas Operators Following Settlement Relating to 25 Pa. Code Chapter 78a
Mineral Owner Complained about Surface Owner Having Granted Lease to a Company that Constructed a Solar Facility which Occupied Most of the Surface; Because the Mineral Owner was not Actively Trying to Develop the Minerals, and had Never Attempted to do so, a Texas Appellate Court Holds that Mineral Owner's Complaint was Premature
Texas Supreme Court Interprets "Continuous-development" Clause that Allowed Lessee which Completed Well Before End of Term to Carry Forward "unused days … in order to extend the next … term"
West Virginia Supreme Court Applies Recording Statute to Resolve Dispute as to Whether Top Lease or Amended Base Lease Would Prevail when Base Lease was Amended to Extend its Primary Term
West Virginia Oil and Gas Lease that was Silent on the Lessee's Right to Pool or Unitize did not Grant Lessee an Implied Right to Pool or Unitize
FERC Proposes Changes to Price Index Reporting Policy
The Oil & Gas E-Report is a quarterly newsletter that began in 2018. It contains articles of current interest to oil and gas practitioners and is assembled by a geographically diverse group of editors from private practice, in-house, and academia. This e-publication is the successor to IEL's print publication, the Oil and Gas Reporter, which was published from 1952-2017.
Editorial Board
IEL E-Communications Committee Chair
Eric C. Camp, Decker Jones, PC
Editor-in-Chief
Keith B. Hall, LSU Paul M. Hebert Law Center
Editors
Kevin C. Abbott, Law Office of Kevin C. Abbott
Michael B. Bennett, Eversheds Sutherland
Bradford Berge, Holland & Hart LLP
Mark D. Christiansen, Edinger Leonard & Blakley PLLC
Earl DeBrine, Jr., Modrall Sperling
Sharon O. Flanery, Steptoe & Johnson PLLC
Jana Grauberger, Liskow & Lewis
Aimee W. Hebert, Kelly Hart & Pitre
John T. Kalmbach, Cook, Yancey, King & Galloway
Kenneth Klemm, Baker, Donelson, Bearman, Caldwell & Berkowitz, PC
Michael P. Lennon, Jr., Mayer Brown LLP
Daniel M. McClure, Norton Rose Fulbright US LLP
John W. Morrison, Crowley Fleck PLLP
Jennifer Walter Mosley, Chevron
Barclay Nicholson, Norton Rose Fulbright US LLP
Scott A. O'Connor, Gordon, Arata, Montgomery, Barnett, McCollam, Duplantis & Eagan, LLC
Patrick S. Ottinger, Ottinger Hebert, L.L.C.
Joseph K. Reinhart, Babst Calland
Bruce F. Rudoy, Babst Calland
Gregory D. Russell, Vorys, Sater, Seymour and Pease LLP
Frédéric (Freddy) Sourgens, Washburn University School of Law
Michael K. Vennum, Vorys, Sater, Seymour and Pease LLP
Please forward any comments, submissions, or suggestions to any of the IEL's Deputy Director, Vickie Adams at vadams@cailaw.org.