Oil & Gas E-Report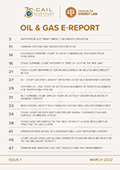 Inside the Latest Issue:
Use of Vacuum Pump to Facilitate Production of Coal Mine Methane Did Not Negate Rule of Capture
Louisiana Supreme Court Holds That Excess Remediation Damages Generally are not Available in Legacy Litigation Cases
Terms and Conditions of Brine Injection Well Restart Order Up-held on Appeal
Carbon Capture Sequestration Forecast for Pennsylvania by a Look at West Virginia's Recent Carbon Capture Sequestration Statute HB 4491
Texas Court Holds Exculpatory Clause Does Not Save Operator from Liability
West Virginia Supreme Court Reconciles MSA and Rate Sheet
Interior Releases Proposed Five-Year Offshore Oil and Gas Leasing Program For 2023-2028
Court Enforces Choice of Law Provision in Oilfield Indemnity Dispute
Fifth Circuit's Tax Doubleheader Allows $200 Million of $1.5 Billion Refund Claim
Ninth Circuit Confirms Power of Utilities Commission to Limit Liability
The Oil & Gas E-Report is a quarterly newsletter that began in 2018. It contains articles of current interest to oil and gas practitioners and is assembled by a geographically diverse group of editors from private practice, in-house, and academia. This e-publication is the successor to IEL's print publication, the Oil and Gas Reporter, which was published from 1952-2017.
Editorial Board
IEL Communications Committee Chair
Luís Miranda, Miranda Law Firm
Editor-in-Chief
Keith B. Hall, LSU Paul M. Hebert Law Center
Editors
David Ammons, Haynes and Boone, LLP
Ken Bullock, Frost Brown Todd LLC
Marcella Burke, Eversheds Sutherland, LLP
Reagan L. Butts, Mewbourne Oil Company
Kevin G. Corcoran, Hedrick Kring PLLC
Vanessa Dittman, Shook, Hardy & Bacon L.L.P.
Edward Duhé, Exxon Mobil Corporation
Sharon Flanery, Steptoe & Johnson PLLC
Urs Broderick Furrer, Harriton & Furrrer, LLP
Drew Gann, McGuireWoods LLP
Michael Gray, Shook, Hardy & Bacon L.L.P.
Yvonne E. Hennessey, Barclay Damon LLP
Kara Herrnstein, Bricker & Eckler LLP
John T. Kalmbach, Cook, Yancey, King & Galloway
Kenneth Klemm, Baker, Donelson, Bearman, Caldwell & Berkowitz, PC
Jasper Mason, Baker, Donelson, Bearman, Caldwell & Berkowitz, PC
Daniel McClure, Norton Rose Fulbright US LLP
John Morrison, Crowley Fleck PLLP
Barclay Nicholson, Norton Rose Fulbright US LLP
Jeffrey Oliver, Baker Botts L.L.P.
Patrick S. Ottinger, Ottinger Hebert, L.L.C.
Diana S. Prulhiere, Steptoe & Johnson PLLC
Niki Roberts, Akin Gump Strauss Hauer & Feld LLP
Gregory D. Russell, Vorys, Sater, Seymour and Pease LLP
C. Brannon Robertson, Fernelius Simon Mace Robertson Perdue PLLC
David E. Sharp, FCIArb, Law Offices of David E. Sharp P.L.L.C.
Chauntelle R. Wood, Baker Botts L.L.P.
Please forward any comments, submissions, or suggestions to any of the IEL's Deputy Director, Vickie Adams at vadams@cailaw.org.