Oil & Gas E-Report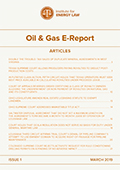 Inside the Latest Issue:
In Climate Case, U.S. Tenth Circuit Holds that Federal Officer Removal Does Not Apply
PHMSA Issues Proposed Rules for Gas Pipeline Regulatory Reform
Federal Court in Arkansas Applies AAPL Form 610 JOA's "Subsequently Created Interest" Provision
In Coastal Land Loss Litigation, Fifth Circuit Holds that Removal Based on Federal Officer Statute was not Timely
Louisiana Legislation Amends Mineral Code Article 212.21
North Dakota Supreme Court Holds "Actual Drilling Operations" is Ambiguous
Eight Circuit Holds that "Promote" Obligation in an Exploration and Development Agreement is not a Covenant Running with the Land under North Dakota Law
Ohio's Dormant Mineral Act Found to Require More Than Search of Local County Records for Notice Purposes
Oklahoma Court of Appeals Reverses Ruling of the District Court Invalidating a City Ordinance on the Ground That the Ordinance was Found to be in Conflict with a State Statute
Oklahoma Supreme Court Affirms District Court's Denial of Exceptions to Report of Commissioners in Pipeline Condemnation Action
The Oil & Gas E-Report is a quarterly newsletter that began in 2018. It contains articles of current interest to oil and gas practitioners and is assembled by a geographically diverse group of editors from private practice, in-house, and academia. This e-publication is the successor to IEL's print publication, the Oil and Gas Reporter, which was published from 1952-2017.
Editorial Board
IEL E-Communications Committee Chair
Eric C. Camp, Decker Jones, PC
Editor-in-Chief
Keith B. Hall, LSU Paul M. Hebert Law Center
Editors
Kevin C. Abbott, Law Office of Kevin C. Abbott
Michael B. Bennett, Eversheds Sutherland
Bradford Berge, Holland & Hart LLP
Mark D. Christiansen, Edinger Leonard & Blakley PLLC
Earl DeBrine, Jr., Modrall Sperling
Sharon O. Flanery, Steptoe & Johnson PLLC
Jana Grauberger, Liskow & Lewis
Aimee W. Hebert, Kelly Hart & Pitre
John T. Kalmbach, Cook, Yancey, King & Galloway
Kenneth Klemm, Baker, Donelson, Bearman, Caldwell & Berkowitz, PC
Michael P. Lennon, Jr., Mayer Brown LLP
Daniel M. McClure, Norton Rose Fulbright US LLP
John W. Morrison, Crowley Fleck PLLP
Jennifer Walter Mosley, Chevron
Barclay Nicholson, Norton Rose Fulbright US LLP
Scott A. O'Connor, Gordon, Arata, Montgomery, Barnett, McCollam, Duplantis & Eagan, LLC
Patrick S. Ottinger, Ottinger Hebert, L.L.C.
Joseph K. Reinhart, Babst Calland
Bruce F. Rudoy, Babst Calland
Gregory D. Russell, Vorys, Sater, Seymour and Pease LLP
Frédéric (Freddy) Sourgens, Washburn University School of Law
Michael K. Vennum, Vorys, Sater, Seymour and Pease LLP
Please forward any comments, submissions, or suggestions to any of the IEL's Deputy Director, Vickie Adams at vadams@cailaw.org.