Oil & Gas E-Report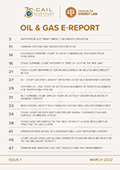 Inside the Latest Issue:
Ohio Supreme Court Further Clarifies 'Reasonable Diligence' Standard Under the Dormant Mineral Act
Colonial Pipeline 2021 Ransomware Incident and Responses
Pennsylvania Appellate Court Distinguishes Between a "reservation" and an "exception" in Deciding Oil and Gas Case
Colorado Clarifies Application of Centerline Presumption to Minerals
North Dakota Lease Was Effective Upon Delivery to Grantee Despite Side-Agreement Providing That There Was an Option to Lease
North Dakota Supreme Court Declares Unconstitutional a Statute That Would Have Allowed Companies to Use Subsurface Pore Spaces Without Compensation to Landowners
ORRI "Anti-Washout" Provision Not Binding on Lease Assignees
A Local Government in Louisiana Seeks to Block Carbon Capture and Storage; Prospective Operator Fights Back
Third Circuit Reaffirms Natural Gas Act's Exclusive-Review Framework
Mississippi Supreme Court Holds Plaintiff in Oilfield Contamination Case Need Not Exhaust Administrative Remedies
The Oil & Gas E-Report is a quarterly newsletter that began in 2018. It contains articles of current interest to oil and gas practitioners and is assembled by a geographically diverse group of editors from private practice, in-house, and academia. This e-publication is the successor to IEL's print publication, the Oil and Gas Reporter, which was published from 1952-2017.
Editorial Board
IEL Communications Committee Chair
Luís Miranda, Miranda Law Firm
Editor-in-Chief
Keith B. Hall, LSU Paul M. Hebert Law Center
Editors
David Ammons, Haynes and Boone, LLP
Ken Bullock, Frost Brown Todd LLP
Marcella Burke, Eversheds Sutherland, LLP
Reagan L. Butts, Mewbourne Oil Company
Kevin G. Corcoran, Hedrick Kring PLLC
Edward Duhé, Exxon Mobil Corporation
Sharon Flanery, Steptoe & Johnson PLLC
Urs Broderick Furrer, Harriton & Furrrer, LLP
Drew Gann, McGuireWoods LLP
Michael Gray, Shook, Hardy & Bacon L.L.P.
Kara Herrnstein, Bricker & Eckler LLP
John T. Kalmbach, Cook, Yancey, King & Galloway
Kenneth Klemm, Baker, Donelson, Bearman, Caldwell & Berkowitz, PC
Jasper Mason, Marathon Oil Company
Daniel McClure, Norton Rose Fulbright US LLP
John Morrison, Crowley Fleck PLLP
Barclay Nicholson, Sheppard Mullin
Jeffrey Oliver, Baker Botts L.L.P.
Patrick S. Ottinger, Ottinger Hebert, L.L.C.
Diana S. Prulhiere, Steptoe & Johnson PLLC
Niki Roberts, Akin Gump Strauss Hauer & Feld LLP
Gregory D. Russell, Vorys, Sater, Seymour and Pease LLP
C. Brannon Robertson, Fernelius Simon Mace Robertson Perdue PLLC
David E. Sharp, FCIArb, Law Offices of David E. Sharp P.L.L.C.
Chauntelle R. Wood, Baker Botts L.L.P.
Please forward any comments, submissions, or suggestions to any of the IEL's Deputy Director, Vickie Adams at vadams@cailaw.org.