Oil & Gas E-Report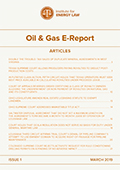 Inside the Latest Issue:
On Appeal of an Order Remanding a Case that was Removed Pursuant to the Federal Officer Removal Statute, the Federal Appellate Court may Consider the Entire Remand Order
Louisiana Second Circuit Upholds Trial Court Ruling that Assignor Did Not Reserve Rights to Haynesville Formation
Landowners Not Entitled to Disgorgement of Defendant's Profits When Pipeline Intruded Onto Landowners' Property
Louisiana Second Circuit Court of Appeal Applies Nunez in the Context of the Drilling of a Cross-Unit Well
Louisiana Supreme Court Holds that the State Constitution Authorizes an Award of Attorney Fees when a Person Incurs a Loss Because of an Expropriation Proceeding
North Dakota Supreme Court Confirms that the Oil Royalty under Oil and Gas Leases at Issue Should be Valued at the Well
Ohio Co-Tenant Acquires All-Depths Oil and Gas Rights by Adverse Possession Through Shallow Production
Commencement Operations in One Section Within a Multi-Unit Horizontal Well Were Found to Constitute Commencement Activities Within the Other Section, Thereby Perpetuating the Oil and Gas Lease Into its Secondary Term
Oil and Gas Operators Classified as "Buyers" Not Subject to the Uniform Trade Practices Consumer Protection Law
BlueStone v. Randle: Supreme Court of Texas Holds that Producer Could Not Deduct Post-Production Costs when "Gross Value Received" Royalty Clause Controlled, and Must Pay Royalty on Off-Lease Use of Gas Not Covered by "Free Use" Lease Fuel Clause
Texas Supreme Court Interprets Continuous Drilling Clause
The Oil & Gas E-Report is a quarterly newsletter that began in 2018. It contains articles of current interest to oil and gas practitioners and is assembled by a geographically diverse group of editors from private practice, in-house, and academia. This e-publication is the successor to IEL's print publication, the Oil and Gas Reporter, which was published from 1952-2017.
Editorial Board
IEL E-Communications Committee Chair
Eric C. Camp, Decker Jones, PC
Editor-in-Chief
Keith B. Hall, LSU Paul M. Hebert Law Center
Editors
David Ammons, Haynes and Boone, LLP
Ken Bullock, Frost Brown Todd LLC
Marcella Burke, King & Spalding LLP
Reagan L. Butts, Mewbourne Oil Company
Mark Christiansen, Edinger, Leonard & Blakley PLLC
Kevin G. Corcoran, Hedrick Kring PLLC
Vanessa Dittman, Shook, Hardy & Bacon, LLP
Edward Duhe, Liskow & Lewis
Sharon Flanery, Steptoe & Johnson PLLC
Urs Broderick Furrer, Harriton & Furrrer, LLP
Drew Gann, McGuireWoods LLP
Michael Gray, Shook Hardy & Bacon, LLP
Yvonne E. Hennessey, Barclay Damon LLP
Kara Herrnstein, Bricker & Eckler LLP
John T. Kalmbach, Cook, Yancey, King & Galloway
Kenneth Klemm, Baker, Donelson, Bearman, Caldwell & Berkowitz, PC
Jasper Mason, Womble Bond Dickinson LLP
Daniel McClure, Norton Rose Fulbright US LLP
John Morrison, Crowley Fleck PLLP
Rebeca Mosquera, Akerman LLP
Barclay Nicholson, Norton Rose Fulbright US LLP
Jeffrey Oliver, Baker Botts L.L.P.
Patrick S. Ottinger, Ottinger Hebert, L.L.C.
Diana S. Prulhiere, Steptoe & Johnson PLLC
Niki Roberts, Akin Gump Strauss Hauer & Feld LLP
Gregory D. Russell, Vorys, Sater, Seymour and Pease LLP
C. Brannon Robertson, Fernelius Simon Mace Robertson Perdue PLLC
David E. Sharp, FCIArb, Law Offices of David E. Sharp P.L.L.C.
Chauntelle R. Wood, Liskow & Lewis
Please forward any comments, submissions, or suggestions to any of the IEL's Deputy Director, Vickie Adams at vadams@cailaw.org.