Oil & Gas E-Report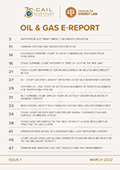 Inside the Latest Issue:
Abstention doctrines' impact on energy litigation
Carbon Capture and Sequestration (CCS)
Colorado Supreme Court to hear 'commercial discovery rule' challenge
Texas Supreme Court interprets "free of cost in the pipe line"
Texas court interprets "gross negligence or willful misconduct" in JOA
D.C. Court vacates largest offshore lease sale in nation's history
Applying La. law, court rejects disgorgement of profits as remedy for trespassing pipeline
N.D. Supreme Court applies "dispute of title" exception in royalty payment statute
New federal safety rule finalized for natural gas gathering lines
Texas court decides whether pipeline burial covenant follows surface or mineral estate
Texas cases reconcile "at the well" royalty clause with limits in "free use" of gas clause
Operator runs afoul of Louisiana's Well Cost Reporting Statute
Court holds Ohio law allows operator to use netback method for "at the wellhead" royalty
Opinion and Analysis: Electric Vehicles and The Environment
The Oil & Gas E-Report is a quarterly newsletter that began in 2018. It contains articles of current interest to oil and gas practitioners and is assembled by a geographically diverse group of editors from private practice, in-house, and academia. This e-publication is the successor to IEL's print publication, the Oil and Gas Reporter, which was published from 1952-2017.
Editorial Board
IEL E-Communications Committee Chair
Eric C. Camp, Decker Jones, PC
Editor-in-Chief
Keith B. Hall, LSU Paul M. Hebert Law Center
Editors
David Ammons, Haynes and Boone, LLP
Ken Bullock, Frost Brown Todd LLC
Marcella Burke, King & Spalding LLP
Reagan L. Butts, Mewbourne Oil Company
Kevin G. Corcoran, Hedrick Kring PLLC
Vanessa Dittman, Shook, Hardy & Bacon L.L.P.
Edward Duhé, Liskow & Lewis
Sharon Flanery, Steptoe & Johnson PLLC
Urs Broderick Furrer, Harriton & Furrrer, LLP
Drew Gann, McGuireWoods LLP
Michael Gray, Shook, Hardy & Bacon L.L.P.
Yvonne E. Hennessey, Barclay Damon LLP
Kara Herrnstein, Bricker & Eckler LLP
John T. Kalmbach, Cook, Yancey, King & Galloway
Kenneth Klemm, Baker, Donelson, Bearman, Caldwell & Berkowitz, PC
Jasper Mason, Baker, Donelson, Bearman, Caldwell & Berkowitz, PC
Daniel McClure, Norton Rose Fulbright US LLP
John Morrison, Crowley Fleck PLLP
Barclay Nicholson, Norton Rose Fulbright US LLP
Jeffrey Oliver, Baker Botts L.L.P.
Patrick S. Ottinger, Ottinger Hebert, L.L.C.
Diana S. Prulhiere, Steptoe & Johnson PLLC
Niki Roberts, Akin Gump Strauss Hauer & Feld LLP
Gregory D. Russell, Vorys, Sater, Seymour and Pease LLP
C. Brannon Robertson, Fernelius Simon Mace Robertson Perdue PLLC
David E. Sharp, FCIArb, Law Offices of David E. Sharp P.L.L.C.
Chauntelle R. Wood, Baker Botts L.L.P.
Please forward any comments, submissions, or suggestions to any of the IEL's Deputy Director, Vickie Adams at vadams@cailaw.org.