Oil & Gas E-Report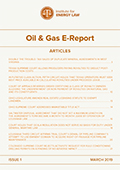 Inside the Latest Issue:
Texas Supreme Court Interprets the Scope of an Assignment of Overriding Royalty Interest
Ohio Courts Continue to Decide Royalty Cases
Daily Rate for Employee's Work on Offshore Rigs Does Not Satisfy FLSA Exemptions Requiring Compensation on a "Salary Basis"
Louisiana Third Circuit Issues New Decision Involving Prescription and Breach of Contract in Oilfield "Legacy" Case
Texas Supreme Court Holds That Rule Against Perpetuities Rendered Invalid an ORRI That Would Have Arisen Under a New Lease by Virtue of Anti-Washout Clause
Louisiana Mineral and Energy Board Adopts Temporary Moratorium on Leasehold Maintenance and Grants Other Relief
Sage-Grouse Advocates Secure Cancellation of Federal Oil and Gas Leases
Federal District Court in Montana Enjoins Dredge or Fill Activities Under Nationwide Permit and Halts New Pipeline Projects
Montana Supreme Court Holds that Dinosaur Fossils are not "Minerals" for Purposes of Mineral Reservation in a Deed
U.S. Ninth Circuit Holds that Federal Court Did Not Have Federal Question Jurisdiction to Hear Oakland's Climate Lawsuit Against Oil Majors
Deans of Oil and Gas Practice Lecture: The Wide Range of Issues and Experiences Encountered in Oil and Gas Industry Litigation
The Oil & Gas E-Report is a quarterly newsletter that began in 2018. It contains articles of current interest to oil and gas practitioners and is assembled by a geographically diverse group of editors from private practice, in-house, and academia. This e-publication is the successor to IEL's print publication, the Oil and Gas Reporter, which was published from 1952-2017.
Editorial Board
IEL E-Communications Committee Chair
Eric C. Camp, Decker Jones, PC
Editor-in-Chief
Keith B. Hall, LSU Paul M. Hebert Law Center
Editors
Kevin C. Abbott, Law Office of Kevin C. Abbott
Michael B. Bennett, Eversheds Sutherland
Bradford Berge, Holland & Hart LLP
Mark D. Christiansen, Edinger Leonard & Blakley PLLC
Earl DeBrine, Jr., Modrall Sperling
Sharon O. Flanery, Steptoe & Johnson PLLC
Jana Grauberger, Liskow & Lewis
Aimee W. Hebert, Kelly Hart & Pitre
John T. Kalmbach, Cook, Yancey, King & Galloway
Kenneth Klemm, Baker, Donelson, Bearman, Caldwell & Berkowitz, PC
Michael P. Lennon, Jr., Mayer Brown LLP
Daniel M. McClure, Norton Rose Fulbright US LLP
John W. Morrison, Crowley Fleck PLLP
Jennifer Walter Mosley, Chevron
Barclay Nicholson, Norton Rose Fulbright US LLP
Scott A. O'Connor, Gordon, Arata, Montgomery, Barnett, McCollam, Duplantis & Eagan, LLC
Patrick S. Ottinger, Ottinger Hebert, L.L.C.
Joseph K. Reinhart, Babst Calland
Bruce F. Rudoy, Babst Calland
Gregory D. Russell, Vorys, Sater, Seymour and Pease LLP
Frédéric (Freddy) Sourgens, Washburn University School of Law
Michael K. Vennum, Vorys, Sater, Seymour and Pease LLP
Please forward any comments, submissions, or suggestions to any of the IEL's Deputy Director, Vickie Adams at vadams@cailaw.org.