Oil & Gas E-Report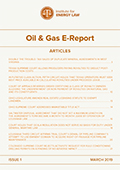 Inside the Latest Issue:
End of the Trail: Supreme Court to Hear Atlantic Coast Pipeline Appeal Fifth Circuit: Court Finds Request for Payment to New Lessor Not Adequate Notice under Article 137
Under Statute Authorizing Penalty Against Any Company that "Maintains" Inaccurate Reports, Company had Duty to Correct Its Past Reports After ONNR Notified It of Inaccuracies
U.S. Ninth Circuit Holds that Plaintiffs Lack Standing to Pursue Case Seeking an Order Requiring that Government Develop a Plan to "Phase Out Fossil Fuel Emissions"
Laches Held to be a Cognizable Offensive (As Opposed to Defensive) Claim to Establish Title to Mineral Interests in New Mexico
First Assignee of Oil and Gas Lease Loses Title to a Subsequent Assignee Under New Mexico's Recording Statute Because of a Defective Notary's Acknowledgment.
Ohio Court Requires Notice and Demand for Development Before Lessor Can Claim Breach of Implied Covenant, Even Where Decades Have Passed Since the Last Well was Drilled
Oklahoma Court of Civil Appeals Reverses Lower Court Order Dismissing Claims for Fraud and Related Causes of Action Under 12 O.S. §2012(B)(6)
Medical Marijuana in Pennsylvania: What Employers in the Oil and Gas Industry Should Know
Pennsylvania Supreme Court holds that, in absence of physical intrusion into subsurface of neighbor's land, a company's use of hydraulic fracturing does not defeat application of rule of capture. Court declines to decide whether an intrusion by fracturing fluid would constitute trespass.
Texas Holds that Contractual Conditions Preclude Partnership and Judgment Exceeding Half-a-Billion
The Oil & Gas E-Report is a quarterly newsletter that began in 2018. It contains articles of current interest to oil and gas practitioners and is assembled by a geographically diverse group of editors from private practice, in-house, and academia. This e-publication is the successor to IEL's print publication, the Oil and Gas Reporter, which was published from 1952-2017.
Editorial Board
IEL E-Communications Committee Chair
Eric C. Camp, Decker Jones, PC
Editor-in-Chief
Keith B. Hall, LSU Paul M. Hebert Law Center
Editors
Kevin C. Abbott, Law Office of Kevin C. Abbott
Michael B. Bennett, Eversheds Sutherland
Bradford Berge, Holland & Hart LLP
Mark D. Christiansen, Edinger Leonard & Blakley PLLC
Earl DeBrine, Jr., Modrall Sperling
Sharon O. Flanery, Steptoe & Johnson PLLC
Jana Grauberger, Liskow & Lewis
Aimee W. Hebert, Kelly Hart & Pitre
John T. Kalmbach, Cook, Yancey, King & Galloway
Kenneth Klemm, Baker, Donelson, Bearman, Caldwell & Berkowitz, PC
Michael P. Lennon, Jr., Mayer Brown LLP
Daniel M. McClure, Norton Rose Fulbright US LLP
John W. Morrison, Crowley Fleck PLLP
Jennifer Walter Mosley, Chevron
Barclay Nicholson, Norton Rose Fulbright US LLP
Scott A. O'Connor, Gordon, Arata, Montgomery, Barnett, McCollam, Duplantis & Eagan, LLC
Patrick S. Ottinger, Ottinger Hebert, L.L.C.
Joseph K. Reinhart, Babst Calland
Bruce F. Rudoy, Babst Calland
Gregory D. Russell, Vorys, Sater, Seymour and Pease LLP
Frédéric (Freddy) Sourgens, Washburn University School of Law
Michael K. Vennum, Vorys, Sater, Seymour and Pease LLP
Please forward any comments, submissions, or suggestions to any of the IEL's Associate Director,
Vickie Adams at vadams@cailaw.org.