Oil & Gas E-Report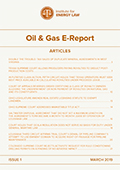 Inside the Latest Issue:
Fifth Circuit: Pipeline Trespass Exposes Pipeline Operator to Claim for Profit Disgorgement under Louisiana Civil Code Article 486
Unleased Owner Was Not Entitled to Penalties Under Louisiana's Well Costs Reporting Statute Because that Owner Did Not Comply with Notice Requirements in Statute
Louisiana Federal Court Rejects Expert Testimony Projecting Lost Revenue for Non-Producing Oil and Gas Well
After Second Removal to Federal Court, Coastal Land Loss Suit is Remanded Again to a Louisiana State Court
Court of Appeals Reaffirms Application of Statute of Limitations to Lease Expi-ration Claims (and a Good Deal More)
Tenth Circuit Court of Appeals Affirms District Court's Dismissal of Homeowners' Lawsuit Against Operators of Wastewater Disposal Wells (with Associated Hydraulic Fracturing Operations) Seeking Recovery for the Increased Costs of Obtaining and Maintaining Earthquake Insurance as the Alleged Result of the Operators' Operations. Court Further Declines to Certify Question to the Oklahoma Supreme Court.
Defendant Acquired Ownership of Oil-and-Gas Leasehold Interest by Adverse Possession
Researchers Conclude that Hydraulic Fracturing has Probably Induced Earthquakes in Permian Basin
Monarch v. Badlands: Colorado Bankruptcy Court Finds Midstream Agreements Run with the Land Under Utah Law
California Announces New Initiatives to Regulate Oil & Gas Activities
GAO Finds Opportunities to Improve BOEM's Offshore Leasing
The Oil & Gas E-Report is a quarterly newsletter that began in 2018. It contains articles of current interest to oil and gas practitioners and is assembled by a geographically diverse group of editors from private practice, in-house, and academia. This e-publication is the successor to IEL's print publication, the Oil and Gas Reporter, which was published from 1952-2017.
Editorial Board
IEL E-Communications Committee Chair
Steven P. Otillar, White & Case LLP
Editor-in-Chief
Keith B. Hall, LSU Paul M. Hebert Law Center
Editors
Kevin C. Abbott, Reed Smith LLP
Michael B. Bennett, Eversheds Sutherland
Bradford Berge, Holland & Hart LLP
Mark D. Christiansen, Edinger Leonard & Blakley PLLC
Earl DeBrine, Jr., Modrall Sperling
Sharon O. Flanery, Steptoe & Johnson PLLC
Jana Grauberger, Liskow & Lewis
Aimee W. Hebert, Kelly Hart & Pitre
John T. Kalmbach, Cook, Yancey, King & Galloway
Kenneth Klemm, Baker, Donelson, Bearman, Caldwell & Berkowitz, PC
Michael P. Lennon, Jr., Mayer Brown LLP
Daniel M. McClure, Norton Rose Fulbright US LLP
John W. Morrison, Crowley Fleck PLLP
Jennifer Walter Mosley, Chevron
Barclay Nicholson, Norton Rose Fulbright US LLP
Scott A. O'Connor, Gordon, Arata, Montgomery, Barnett, McCollam, Duplantis & Eagan, LLC
Patrick S. Ottinger, Ottinger Hebert, L.L.C.
Joseph K. Reinhart, Babst Calland
Bruce F. Rudoy, Babst Calland
Gregory D. Russell, Vorys, Sater, Seymour and Pease LLP
Frédéric (Freddy) Sourgens, Washburn University School of Law
Michael K. Vennum, Vorys, Sater, Seymour and Pease LLP
Please forward any comments, submissions, or suggestions to any of the IEL's Associate Director,
Vickie Adams at vadams@cailaw.org.