Energy Law Advisor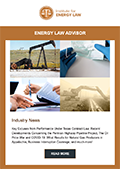 Inside the Latest Issue:
The Wait for Answers About Louisiana R.S. 30:16 Citizen Suits Continues
Reasonably Prudent Operator or Good and Workmanlike Manner: Does Your Contract Have the Right Standard of Care?
Finding a Home for a Hydrogen Hub: Ohio, West Virginia, and Pennsylvania Seek to Bring a Hydrogen Hub Under the Infrastructure Investment and Jobs Act
US FERC Issues Proposed Rule to Improve Regional Transmission Planning and Related Cost Allocation – Too Little, Too Late?
Onshore Federal Oil and Gas Leasing Resumes
The Renewable Fuel Standard
Diversity, Equity & Inclusion Highlight
Member Highlights
The IEL Welcome Mat and New Members
The Energy Law Advisor, the IEL's online newsletter, is published four times each year. Because the Institute for Energy Law brings together some of the best minds from every area of the energy industry, the ELA is a wonderful vehicle for both tapping their understanding of the key legal issues facing the industry and for reaching the people who need the information.
The publication is managed by the Editorial Board, under the chairmanship of Kelly Ransom (New Orleans, Louisiana).
Kelly Ransom
Managing Editor, Energy Law Advisor, Institute for Energy Law
To submit an industry news item for the next issue, contact Kelly Ransom at kelly.ransom@kellyhart.com and Vickie Adams at vadams@cailaw.org.
Energy Law Advisor Archive
2022

2021

2020

2019


2018


2017
2016
2015

2014

2013

2012