Energy Law Advisor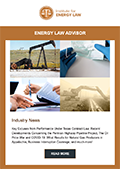 Inside the Latest Issue:
Texas' Assumption of Fifth Circuit Test Requires Jury Findings on Disputed Factors for Borrowed Employee Defense Under Longshore and Harbor Workers' Compensation Act
"Pulling Back the Curtain"
EPA Proposing to Increase Transparency for Guidance Documents
"Agency" Becomes a Real Issue in Title Washing: Pennsylvania Game Commission v. Thomas E. Proctor Heirs Trust
McGirt v. Oklahoma's Potentially Sweeping Regulatory Implications for the Oil & Gas Industry in Eastern Oklahoma
Fifth Circuit Affirms Remand Orders in Louisiana Coastal Zone Lawsuits
EPA Finalizes Updates to CWA Water Quality Certification Requirements
Oil & Gas Companies Face Broader Exposure to FCA Liability Under COVID Stimulus Programs
Proposed Regulations Offer Welcome Guidance on Section 45Q Carbon Capture Credits
NEPA Final Rule Overhauls Environmental Reviews
The Legal Landscape for Navigating the "E" of ESG
IEL's First Diversity and Inclusion Book Club—and Why It Matters

Institute News

Members in the News

The IEL Welcome Mat and New Members
The Energy Law Advisor, the IEL's online newsletter, is published four times each year. Because the Institute for Energy Law brings together some of the best minds from every area of the energy industry, the ELA is a wonderful vehicle for both tapping their understanding of the key legal issues facing the industry and for reaching the people who need the information.
The publication is managed by the Editorial Board, under the chairmanship of Kelly Ransom (New Orleans, Louisiana).
Kelly Ransom
Managing Editor, Energy Law Advisor, Institute for Energy Law
To submit an industry news item for the next issue, contact Kelly Ransom at kelly.ransom@kellyhart.com and Vickie Adams at vadams@cailaw.org.
Energy Law Advisor Archive
2020

2019


2018


2017
2016
2015

2014

2013

2012