Energy Law Advisor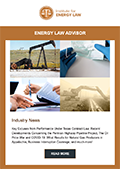 Inside the Latest Issue:
Renewable Energy and Catastrophic Incidents: Focusing on Potential Litigation Arising Out of Lithium Ion Battery-Storage Facilities
D90 Energy, LLC v. Jefferson Davis Parish Board of Review Results in Big Property Tax Win for Industry
Federal Judge Rejects Landowners' Claims That Pipelines on Leasehold Cannot Transport Gas from Neighboring Lands Without Separate Right-of-Way Agreement
What Businesses Should Expect in Potential COVID Liability Protection Legislation & What They Can Do About It Now
From Coal to Bright: Embracing Trends of Energy Transition to Latam
Energy Impact: What the Biden Administration's Environmental Agenda Means for the Oil and Gas Industry

Institute News

Diversity and Inclusion Highlight

Members in the News

The IEL Welcome Mat and New Members
The Energy Law Advisor, the IEL's online newsletter, is published four times each year. Because the Institute for Energy Law brings together some of the best minds from every area of the energy industry, the ELA is a wonderful vehicle for both tapping their understanding of the key legal issues facing the industry and for reaching the people who need the information.
The publication is managed by the Editorial Board, under the chairmanship of Kelly Ransom (New Orleans, Louisiana).
Kelly Ransom
Managing Editor, Energy Law Advisor, Institute for Energy Law
To submit an industry news item for the next issue, contact Kelly Ransom at kelly.ransom@kellyhart.com and Vickie Adams at vadams@cailaw.org.
Energy Law Advisor Archive
2020

2019


2018


2017
2016
2015

2014

2013

2012