Energy Law Advisor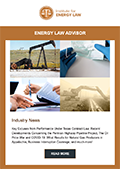 Inside the Latest Issue:
In-House Counsel Q&A with Eliot Cotton, Riverstone Holdings LLC, Credit and Decarbonization General Counsel
U.S. EPA Office of Land and Emergency Management Publishes Environmental Justice Action Plan
Fifth Circuit Affirms Remand of Louisiana Coastal Zone Lawsuits…Again
Appellate Courts Provide Guidance on Jurisdiction for Climate Change Lawsuits
CISA Seeks Public Input on Cyber Incident Reporting
Supreme Court of Ohio Reviewing Challenge to Authorization of Wind Farm Project
U.S. FERC Issues Two Orders Clarifying the Scope of its Natural Gas Act Jurisdiction
Whose Party is it Anyway? Re-evaluating Workplace Events from a Lens of Inclusivity
Diversity, Equity & Inclusion Highlight
Member Highlights
The IEL Welcome Mat and New Members
The Energy Law Advisor, the IEL's online newsletter, is published four times each year. Because the Institute for Energy Law brings together some of the best minds from every area of the energy industry, the ELA is a wonderful vehicle for both tapping their understanding of the key legal issues facing the industry and for reaching the people who need the information.
The publication is managed by the Editorial Board, under the chairmanship of Kelly Ransom (New Orleans, Louisiana).
Kelly Ransom
Managing Editor, Energy Law Advisor, Institute for Energy Law
To submit an industry news item for the next issue, contact Kelly Ransom at kelly.ransom@kellyhart.com and Vickie Adams at vadams@cailaw.org.
Energy Law Advisor Archive
2022

2021

2020

2019


2018


2017
2016
2015

2014

2013

2012