Energy Law Advisor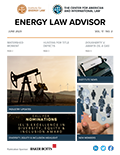 Inside the Latest Issue:
One Man's Waste is Another Man's Treasure: Texas Appellate Court Holds that Produced Water Belongs to Mineral Owners
Proposed NEPA Regulations Spotlight Environmental Justice
BLM Proposes Revised Regulations for Wind and Solar Rights-of-Way and Leases
Louisiana State Mineral Board to Consider Retaining Third Party Counsel to Pursue Underpayment of Royalty Claims Associated with Natural Gas Production on State Lands and Waterbottoms
FERC Announces "Watershed" Changes to Interconnection Policy
Louisiana Coastal Zone Litigation Update: Cameron Parish District Court Grants Summary Judgment on Solidary Liability Issue
Gathering is Not Transportation – DCOR & Post-Production Costs Under Federal Leases
Recent Developments in Louisiana Carbon Capture, Utilization, and Storage Laws
Diversity, Equity & Inclusion Highlight
Member Highlights
New Members
The Energy Law Advisor, the IEL's online newsletter, is published four times each year. Because the Institute for Energy Law brings together some of the best minds from every area of the energy industry, the ELA is a wonderful vehicle for both tapping their understanding of the key legal issues facing the industry and for reaching the people who need the information.
The publication is managed by the Editorial Board, under the chairmanship of Kelly Ransom (New Orleans, Louisiana).
Kelly Ransom
Managing Editor, Energy Law Advisor, Institute for Energy Law
To submit an industry news item for the next issue, contact Kelly Ransom at kelly.ransom@kellyhart.com and Vickie Adams at vadams@cailaw.org.
Energy Law Advisor Archive
2023


2022

2021

2020

2019


2018


2017
2016
2015

2014

2013

2012