Energy Law Advisor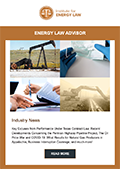 Inside the Latest Issue:
Key Excuses from Performance Under Texas Contract Law

Update and Commentary on Recent Developments Concerning the Permian Highway Pipeline Project

LNG in the Time of Corona: Industry Update on the Challenges and Opportunities of North American LNG Projects

The Oil Price War and Covid-19: What Results for Natural Gas Producers in Appalachia?

Federal Offshore Pipeline Decommissioning in BOEM Significant Sediment Resource Areas

Business Interruption Coverage Amidst the COVID-19 Pandemic

Louisiana State Court Provides Guidance in the Recent Trend of Citizen Suits Under Environmental Statute

Preparing for a Shut-In: Key Lease-Preservation Factors to Consider When Shutting-In a Well

Coronavirus Litigation Issues for the Energy Industry

US EPA Issues Temporary Enforcement Policy in Wake of COVID-19

In Pennsylvania, Road Construction Results in de facto Condemnation of Coal on Nonadjacent Parcel

Institute News

Members in the News

The IEL Welcome Mat and New Members
The Energy Law Advisor, the IEL's online newsletter, is published four times each year. Because the Institute for Energy Law brings together some of the best minds from every area of the energy industry, the ELA is a wonderful vehicle for both tapping their understanding of the key legal issues facing the industry and for reaching the people who need the information.
The publication is managed by the Editorial Board, under the chairmanship of Kelly Ransom (New Orleans, Louisiana).
Kelly Ransom
Managing Editor, Energy Law Advisor, Institute for Energy Law
To submit an industry news item for the next issue, contact Kelly Ransom at kelly.ransom@kellyhart.com.
and Vickie Adams at vadams@cailaw.org.
Energy Law Advisor Archive
2020

2019


2018


2017
2016
2015

2014

2013

2012