Energy Law Advisor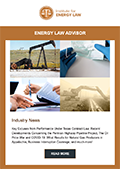 Inside the Latest Issue:
Oklahoma Attorney General Backs Down from Natural Gas Price-Gouging Lawsuits
Texas Supreme Court Holds in BlueStone that Gathering Costs Can Sometimes be Deducted as Post-production Costs
Department of Justice Ramps Up Scrutiny of Businesses In White-Collar Cases, Will Consider Using "Monitors"
Louisiana and Texas: Oil Companies Face Significant Choice of Law Considerations Concerning Anti-Indemnity Statutes in Negotiating Indemnity and Defense Provisions
The Infrastructure Investment and Jobs Act Aims to Clean Up Legacy Pollution in the Appalachian Region
Diversity, Equity & Inclusion Highlight
Member Highlights
The IEL Welcome Mat and New Members
The Energy Law Advisor, the IEL's online newsletter, is published four times each year. Because the Institute for Energy Law brings together some of the best minds from every area of the energy industry, the ELA is a wonderful vehicle for both tapping their understanding of the key legal issues facing the industry and for reaching the people who need the information.
The publication is managed by the Editorial Board, under the chairmanship of Kelly Ransom (New Orleans, Louisiana).
Kelly Ransom
Managing Editor, Energy Law Advisor, Institute for Energy Law
To submit an industry news item for the next issue, contact Kelly Ransom at kelly.ransom@kellyhart.com and Vickie Adams at vadams@cailaw.org.
Energy Law Advisor Archive
2022

2021

2020

2019


2018


2017
2016
2015

2014

2013

2012