Energy Law Advisor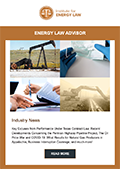 Inside the Latest Issue:
Fifth Circuit Reverses 2020 Decision on Timeliness of Removal of Louisiana Coastal Zone Lawsuits
Overturning 8 Years of "Palpable Error," The Louisiana Supreme Court Limits Damages Available to Landowners in Oilfield Legacy Litigation
Endeavor Energy Resources, L.P. v. Energen Resources Corporation, et al.
Texas District Court Rejects the Railroad Commission of Texas's Purported Authority to Permit PSA Wells
IEL's Diversity, Equity, and Inclusion Pledge
Leadership Class
Members in the News
The IEL Welcome Mat and New Members
The Energy Law Advisor, the IEL's online newsletter, is published four times each year. Because the Institute for Energy Law brings together some of the best minds from every area of the energy industry, the ELA is a wonderful vehicle for both tapping their understanding of the key legal issues facing the industry and for reaching the people who need the information.
The publication is managed by the Editorial Board, under the chairmanship of Kelly Ransom (New Orleans, Louisiana).
Kelly Ransom
Managing Editor, Energy Law Advisor, Institute for Energy Law
To submit an industry news item for the next issue, contact Kelly Ransom at kelly.ransom@kellyhart.com and Vickie Adams at vadams@cailaw.org.
Energy Law Advisor Archive
2021

2020

2019


2018


2017
2016
2015

2014

2013

2012