Energy Law Advisor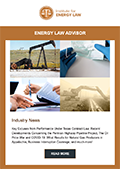 Inside the Latest Issue:
Wake-Up Call: What the SolarWinds Cyberbreach Means for Midstream Companies
Ohio Supreme Court Provides Some Clarity on the Specificity Required to Reserve Interests Under the Marketable Title Act
Pricing Carbon in New York
Ohio Supreme Court Finds No Conflict Between MTA and DMA in Reuniting Mineral Interests
From Sea Change to Sea Levels Rising: What a Unified Democratic Government Means for Climate Change Action
How US Environmental Laws and Regulations Affect Carbon Capture and Storage
Pennsylvania's Supreme Court Holds Unfair Trade Practices and Consumer Protection Law Does Not Apply to Oil & Gas Companies Acquiring Oil and Gas Leases
Carbon Capture and Storage M&A Likely to Accelerate in US
Featured Student Article: Preventing a Bone-Dry Future: Texas's Need for a Statewide Groundwater Conservation Authority

Institute News

Members in the News
Hartrick Scholar Writing Competition
The IEL Welcome Mat and New Members
The Energy Law Advisor, the IEL's online newsletter, is published four times each year. Because the Institute for Energy Law brings together some of the best minds from every area of the energy industry, the ELA is a wonderful vehicle for both tapping their understanding of the key legal issues facing the industry and for reaching the people who need the information.
The publication is managed by the Editorial Board, under the chairmanship of Kelly Ransom (New Orleans, Louisiana).
Kelly Ransom
Managing Editor, Energy Law Advisor, Institute for Energy Law
To submit an industry news item for the next issue, contact Kelly Ransom at kelly.ransom@kellyhart.com and Vickie Adams at vadams@cailaw.org.
Energy Law Advisor Archive
2021

2020

2019


2018


2017
2016
2015

2014

2013

2012