The Institute for Law Enforcement Administration (ILEA) announced the retirement of the institute's executive-in-residence Chief Deputy (Ret.) Jay Six with a surprise tribute at ILEA's annual Contemporary Issues and Ethics in Law Enforcement Conference held in Southlake, TX, on December 2.
"Something has to be said about a person who not only dedicates forty-five years of their life to something but dedicates the same amount of time to make it better. Through his efforts, Chief Deputy Six has influenced the law enforcement profession for the better. He is a Teacher, Coach, Mentor, and simply a good man," stated ILEA director Gregory Smith.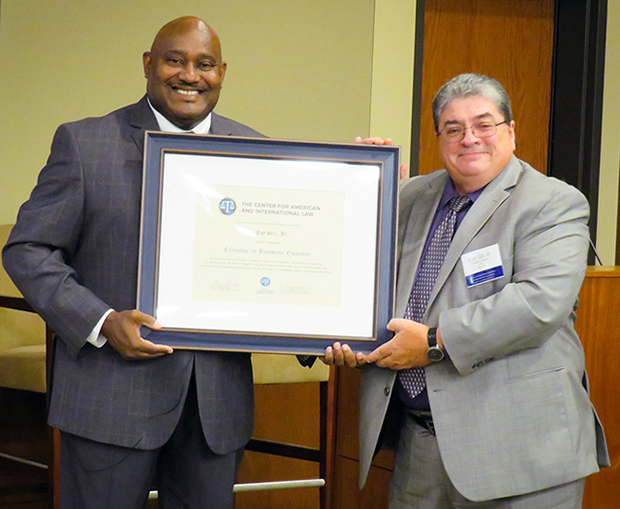 Six began his law enforcement career with the University of Texas at Arlington Police Department in 1976 before working his way to Lieutenant at the Arlington Police Department from 1978 to 2003. Six moved on to become the Chief Deputy of the Patrol Division for the Tarrant County Sheriff's Office. In 2016 retired from his active law enforcement career.
Six has been affiliated with ILEA since 1994 when he joined as an adjunct faculty member. Since then, he has served as President of the ILEA Alumni Association twice before joining ILEA as an Executive-in-Residence in 2018.
The Center for American and International Law and ILEA recognize Six for his hard work, commitment, and dedication and wish him success in all his plans and endeavors.

About the Institute for Law Enforcement Administration - The Institute for Law Enforcement Administration (ILEA) was founded in Dallas, Texas, in 1957 as a division of The Center for American and International Law (CAIL), an international nonprofit educational institution for lawyers, judges, and law enforcement professionals. ILEA has a well-established reputation as a leader in policing education in the United States and worldwide through innovative professional development, continuing education, and ethics/ethical decision-making programs that prepare law enforcement leaders to thrive in times of calm and during moments of crisis. Visit cailaw.org/ILEA to learn more.
Media Contact: Karla Lárraga
972.244.3435 | klarraga@cailaw.org