The Center for American and International Law's ("CAIL") Institute for Law Enforcement Administration ("ILEA") is pleased to announce the hiring of the retired Richardson Police Department sergeant Frank Bradford as ILEA's new full-time lecturer. Bradford, who will be teaching law enforcement ethics and leadership, began his role on March 1, 2022.
"After nearly 30 years as a law enforcement professional, Frank joins us with skill sets that will bring immeasurable value to the ILEA team," shared Gregory Smith, Director of CAIL's Institute for Law Enforcement Administration. "His leadership experience and professional background will benefit program participants as they look to better serve their communities. We are honored that Frank has chosen ILEA as the next place in which to take his career."
Throughout his 29-year career in law enforcement, Bradford served as a patrol officer, field training officer, member of Mobile Field Force, school resource officer, SWAT officer and negotiator, and crime prevention specialist. After his promotion to sergeant, Bradford supervised in Patrol Operations and Richardson PD's Community Relations Unit. During his tenure with Richardson PD, Bradford founded the Department's Faith-Based Crime Prevention program and taught many courses for the Department and ILEA.
Bradford's leadership has been recognized throughout his career. Some of the recognitions and accolades he has earned include the 2018 City of Richardson Leadership Academy, 2016 Richardson Police Sworn Supervisor of the Year, 2002 Texas Youth Commission Volunteer/Mentor of the Year, and the 1994 Richardson Police Rookie of the Year.
Bradford holds a Bachelor of Arts degree in Criminal Justice from Sam Houston State University, a Master of Arts in Interdisciplinary Studies from the University of Texas at Dallas, and a Master of Arts degree in Christian leadership from Criswell College in Dallas. He is TCOLE-certified as a law enforcement instructor and is also certified as an ethics trainer through CAIL's Institute for Law Enforcement Administration.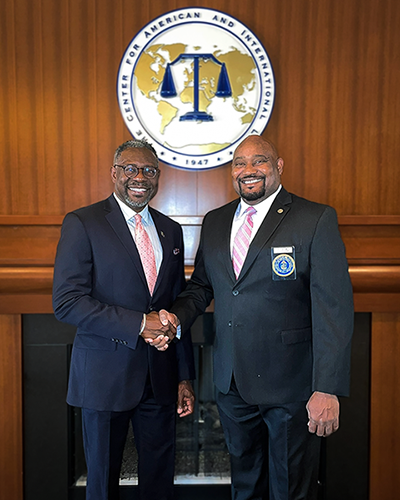 ------

About the Institute for Law Enforcement Administration - The Institute for Law Enforcement Administration (ILEA) was founded in Dallas, Texas, in 1957 as a division of The Center for American and International Law (CAIL), a nonpartisan 501c3 nonprofit educational organization for lawyers, judges, and law enforcement professionals. ILEA has a well-established reputation as a leader in policing education in the United States and worldwide through innovative professional development, continuing education, and ethics/ethical decision-making programs that prepare law enforcement leaders to thrive in times of calm and during moments of crisis. Visit cailaw.org/ILEA to learn more.
MEDIA CONTACT: Karla Lárraga
(972) 244-3436 | klarraga@cailaw.org