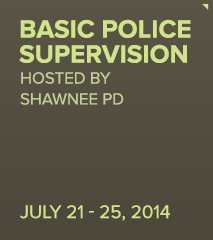 ILEA is proud to announce Shawnee PD as its newest host agency! The one-week Basic Police Supervision program will be offered in the Oklahoma region from July 21-25, 2014.

Transitioning from line officer to supervisor can be a difficult challenge. This course will provide the skills necessary to begin a leadership career with confidence and to accept the demands of effectively leading a team.

For more information and to register, click here.
Interested in becoming a host agency?
Police departments rarely have enough funding for all the training they desire. Hosting an ILEA conference or program helps stretch your training budget and brings the most current education to your agency or region. Learn more.