ILEA had a successful showing at the recent International Association of Chiefs of Police (IACP) Conference. We were proud to be a part of more than 720 exhibitors in 525,701 square feet of exhibit space at the San Diego Convention Center.
We had many ILEA supporters stop by to say hello, and met some new friends from all over the country. Our drawing winners came from six different states, near and far: Chief James Fry, Moscow PD, Idaho; Chief Richard D. Finfrock, Christiana Borough PD, Pennsylvania; Mark Opgrande, PIO, Oklahoma County Sheriff, Oklahoma; Commander Eddie Lopez, Sahuarita PD, Arizona; Captain Loren Marion, Peoria PD, Illinois and Captain Mike Penshorn, New Braunfels PD, Texas.
Congratulations, and special thanks to Red the Uniform Tailor for donating items for our drawings!
We would like to extend our sincerest appreciation to ILEA Alumni Association Board Members: Assistant Chief Coby Pewitt, Richardson PD, Deputy Chief Jim Cook, Coppell PD, Lieutenant Brian Alford, Farmersville PD, and Lieutenant Don Hyder, DART PD for helping us out at the booth. Thank you so much for going above and beyond!
Along with the "official" work, we also enjoyed Host Chief's Night at Petco Park. We now look forward to IACP 2017 in Philadelphia!
Pictured from left to right: Greg Smith, MA, Director, ILEA; Assistant Chief Coby Pewitt, Richardson Police Dept., TX; and Tracy Harris, Manager of Operations, ILEA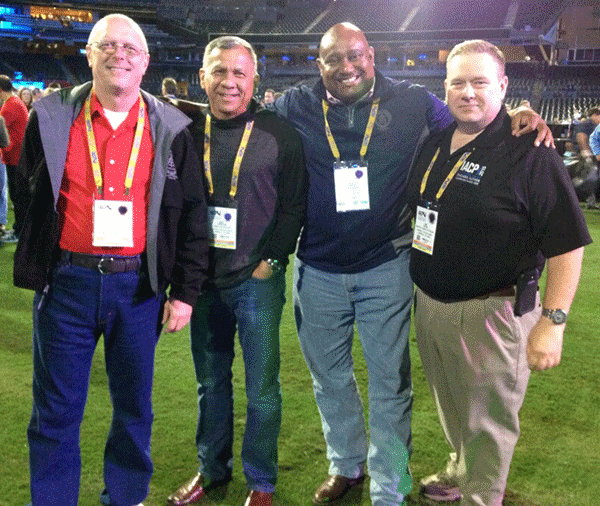 Pictured from left to right: Lt. Ronald K. Lindsey, DART Police Dept., TX; Chief Mac Tristan, Coppell Police Dept., TX; Greg Smith, MA, Director, ILEA; and Deputy Chief Jim Cook, Coppell Police Dept., TX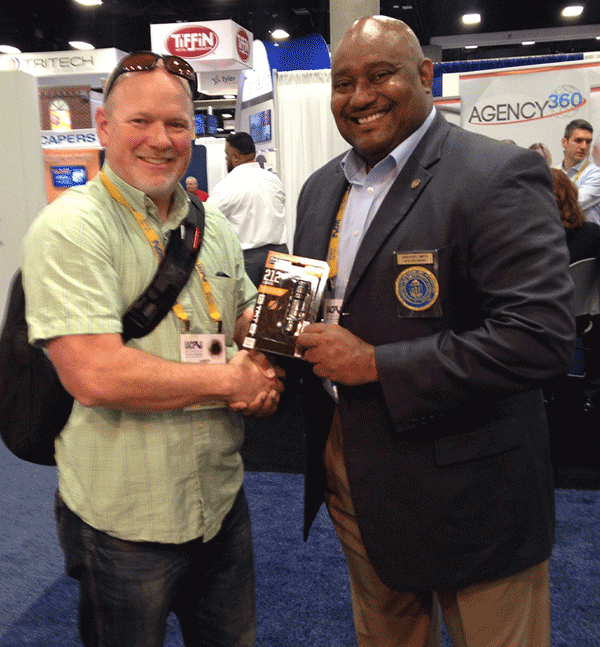 Pictured from left to right: ILEA IACP Raffle Winner Chief James Fry, Moscow Police Dept., ID and Greg Smith, MA, Director, ILEA