Law enforcement leaders from throughout Texas, as well as from Arkansas, Missouri and Alaska, graduated on April 26, 2019, from an intensive, 8-week program to prepare them for the complex challenges of leadership in public safety administration.
The 27 graduates of the Institute for Law Enforcement Administration (ILEA) School of Executive Leadership gained insight and skills on topics ranging from building effective teams and strategic planning to creating a culture of integrity and servant leadership.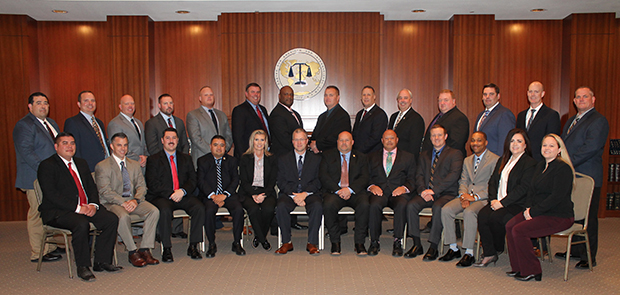 "Our goal is to help students strengthen their leadership and communication skills, build trusted relationships with their teams and engage effectively with their communities," said Gregory Smith, M.A., director of ILEA and vice president of its parent organization, The Center for American and International Law.
At the graduation ceremony held at The Center for American and International Law in Plano, Dallas County Sheriff Marian Brown spoke about what motivates certain people to go into law enforcement. "I believe they feel they can make a difference. They want to help people. They want to make the world a better place, to be a hero."
She told the graduates that in their law enforcement leadership roles, they are the guardians of the profession who have the responsibility to protect the character and reputation of the profession by remembering – and living by what called them to be in law enforcement to begin with.
"I challenge each of you today to take what you garnered in this last few weeks—to take those discussions, the teamwork, the projects, the books you had to read, the lessons—take what you gleaned from this training and mesh it together with what brought you here to begin with," said Sheriff Brown. She added, "And then I challenge you to take it back to your departments as you lead by example to encourage others to get back to what brought you here."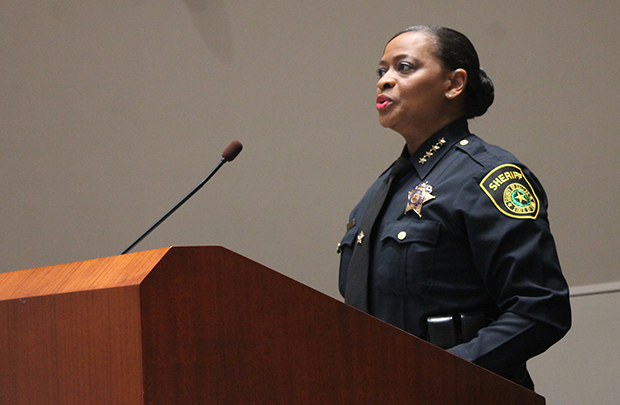 This was the 56th graduating class of ILEA's School of Executive Leadership. In addition to lectures and reading, the coursework also includes a capstone project in which students recommend solutions for a particular issue facing a police department. Lieutenant Cameron Huggins of the Arlington, Texas Police Department and three other students performed a shift study for the Branson, Missouri department.
"Branson is unique because there are only 11,000 permanent residents providing a small tax base that funds the department, but the town gets more than nine million visitors a year," said Lt. Huggins. "We were tasked with recommending the best staffing option to enable the officers to have enough time off for rest and training, and also save the department on overtime costs."
After researching the situation and evaluating other options, Huggins and his capstone project teammates recommended that the Branson Police Department implement a 10-hour shift with rotating days off for their officers.
In addition to the capstone project, Huggins said one of the most meaningful topics for him was the emphasis on servant leadership – a key element, he said, in being a successful leader. Huggins, who was elected class president, describes servant leadership as empowering teams — giving them the resources and tools to be successful and fulfill their mission.
"The best part of the School of Executive Leadership for me was the networking with leaders from other police agencies," said Huggins. "We plan to stay in touch and be a resource for each other in the future."